NAWM Project Products and Findings: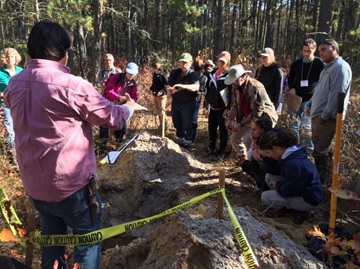 Increasing Access to High Quality, Affordable Wetland Training for On-the-Ground Wetland Professionals in the United States
The National Association of Wetland Managers (NAWM) has completed a project designed to develop new products focused on improving access to high quality training resources for on-the-ground wetland professionals in the United States. This webpage has been developed to share the various products and findings of this multi-year, national workgroup-guided project.
Project Background:
On-the-ground wetland professionals, whether working for state and tribal wetland programs or in other capacities, are faced with a diverse and complicated set of tasks in their day-to-day work. Not only do they need to understand wetland science, monitoring and assessment, restoration, regulatory and legal information, and policy, they need to acquire leadership, management, research and evaluation skills. Whether or not they receive a rigorous training on these topics as part of their formal education, they all remain challenged to stay abreast of the latest science and technologies to allow them to do their jobs to the best of their ability. This reality means that ongoing training should be a cornerstone of wetland programs, providing staff with access to continuing education opportunities and qualified trainers. Additionally, with wetland professionals turning over in many states due to retirements, budget cuts and reorganization, the need for training is pressing.
NAWM's National Project
To meet these needs, in 2015, NAWM embarked on a new project to improve access to high quality wetland training for states, tribes and other wetland professionals across the United States. This project was designed to explore and articulate training priorities that will increase the capacity of on-the-ground state and tribal wetland professionals to carry out their day-to-day work implementing wetland programs. The project was designed to identify tools and techniques to improve decision making and ultimately enhance the protection and management of wetlands. This project was completed in April 2017 and the project products are provided on this webpage either as online documents or links to resources created by NAWM.
The following links provide online access to the products and findings of this multi-year, national workgroup-guided project:
Assessment of Current Wetland Training Needs for State and Tribal Wetland Staff
Wetland Training Needs Assessment Findings
Identification of the Characteristics of High Quality Wetland Training
Characteristics of High Quality Wetland Training Grid
Compilation of Existing Training Opportunities
Online Matrix of Wetland Training Providers
Academic White Paper
Preparing Students for Wetland Professions: A White Paper to Assist Planning by Institutions of Higher Education
Final Project Report – Increasing Access to High Quality, Affordable Wetland Training for On-the-Ground Wetland Professionals in the United States (2017)
External Resources on Wetland Training
Society for Ecological Restoration (SER): Academic Programs