Webinars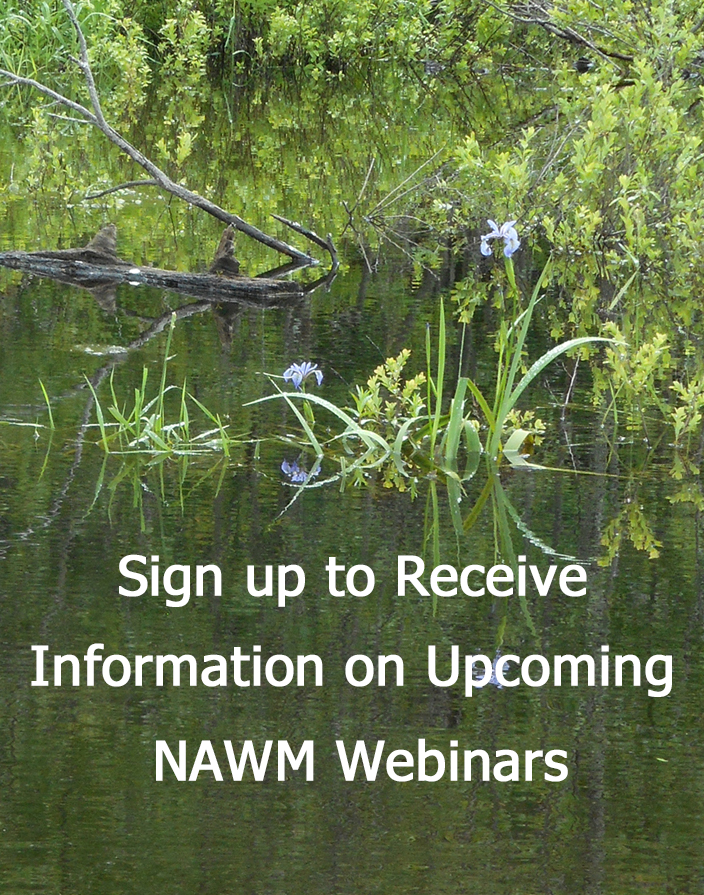 The National Association of Wetland Managers (NAWM) is passionate about knowledge sharing. For more than thirty years, NAWM has made it a priority to provide free, open-access training and education for our members and the public in order to build robust and effective state and tribal wetland programs and to protect wetlands resources throughout the Nation.
NAWM holds webinars on various topics, most of which relate to a specific project and work group. In addition, NAWM holds webinars as part of its members' webinar series on topics of interest to members. Please click on the webinar group name below for more details about individual webinars. In all cases, if you have any questions about registering for a webinar, please contact Laura at laura@nawm.org.
NAWM has also developed a series of online training webinars, designed to provide a more in-depth training experience, with individual modules containing objectives, quizzes, and an answer key.
If you haven't used Go To Webinar before or you just need a refresher, please view our guide prior to the webinar here.
For a full list of all available webinar recordings with links, can be found here.
Please Note: NAWM is not a professional certification authority or institution. However, Certificates of Attendance to be used toward Continuing Education Credits are available for all live NAWM Webinars. Certificates are free to NAWM members and $25.00 per certificate for non-members. All Certificates must be claimed no later than 60 days from the live presentation. More information is available here.