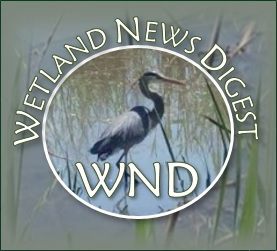 Wetland News Digest is an edited compilation of wetland-related stories and announcements submitted by readers and gleaned from list-servs, press releases and news sources from throughout the United States. The newsletter features legislative, national and states' news relevant to wetland science and policy, wetland regulations and legal analysis of Supreme court cases. It also links to new publications and resources available to wetland professionals as well as events and training opportunities for those working in water resources and related fields. It is distributed to over 4,000 readers. Wetland News Digest (formerly known as "Wetland Breaking News") has been published since 1999.
Current Issue [March 2023]
Archived Issues

Wetland News Digest (WND) Sponsorship Opportunities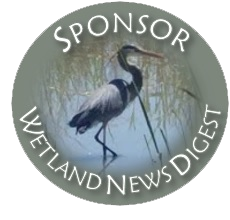 Wetland News Digest sponsorship provides the perfect opportunity for your business to increase its visibility with members of the wetlands and water resources community and reinforce your continued commitment to wetlands in the U.S. Take advantage of this opportunity to promote your company in Wetland News Digest which will prominently display your ad or company's logo and website link in the publication. Sponsors will be recognized on the Wetland News Digest homepage, in the e-newsletter/email sent to over 4,000 subscribers and on the online issue of the newsletter. More detailed information can be found on the NAWM Sponsorship webpage.
Join NAWM and Support Wetlands Protection
What do you have in common with NAWM members? We know you share a vested interest in accurate wetlands information. State and tribal environmental programs, federal agencies and wetland professionals rely on NAWM to bring analyses and information about wetlands to light, reflected through a balanced lens.
By joining the Association, your membership will support a high volume of projects and services in addition to Wetland News Digest. There are several ways to join NAWM. JOIN OR RENEW NOW or make a charitable donation. DONATE NOW.
What Wetlandkeepers & Readers Say About NAWM and WND
To have Wetland News Digest delivered to your e-mail box, click here.
"WETLAND NEWS DIGEST" Compiled by Marla Stelk, Executive Director, NAWM and Justin Farino, Administrative Assistant, NAWM; Edited by Marla Stelk, Executive Director; Assistant Editors: Laura Burchill, Office Manager, NAWM and Sharon Weaver, Webmaster, NAWM.
EDITORIAL POLICY: The editor reserves all rights to decide what should be included in this publication. Publication in Wetland News Digest (WND) does not indicate endorsement or accuracy of any article or book included, sold or mentioned. It is up to the reader to make that determination. All copyrighted material is rewritten or excerpted to pass the fair use law or permission has been given for NAWM to use. Since the editor can't guarantee the accuracy of the articles, NAWM is not liable for anything said in an article. Documented corrections of an item included in WND will be considered for posting as a "Letter to the Editor." To find an article previously published in WND just search the Archives on the website. If you have any suggestions, articles or announcements you wish to see posted in WND please e-mail .