Government Liability for Flood Hazards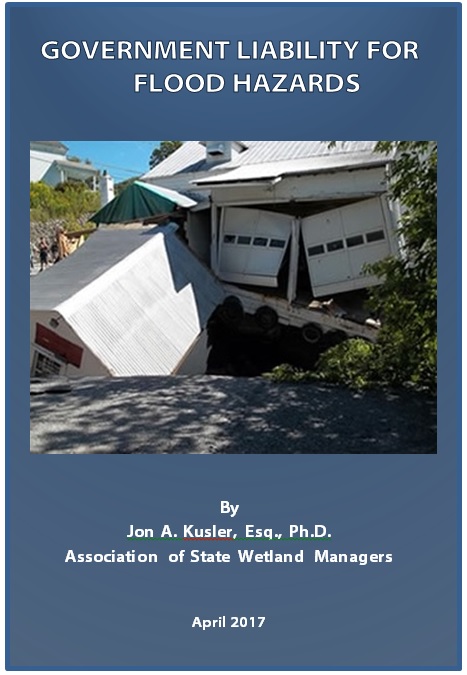 Online Book Available
(PDF Format)

Author: Jon Kusler, Esq., Ph.D.
Price:
NAWM Members: $35.00

Non-Members: $45.00
Release Date: May 18, 2017
ISBN: 877-310-7333
Pages: 169

To Order Book:
Step 1. Please click "Order Now" and fill out the information requested.
Step 2. You will need to pay with PayPal (credit card) or Offline payment with a check or money order.
Step 3. Once your payment has been processed, you will receive an email confirmation along with a PDF of the book attached.
Step 4. Please allow 1-2 business days to process your order.
Step 5. CD's available for purchase upon request.

If you have any questions in regards to this procedure, please call NAWM at (207) 892-3399. Thank you.

About this Book

This book has been written for the staff of local governments, states, and federal agencies concerned about potential government liability for flooding private property or for adopting floodplain regulations which "take" private property without payment of just compensation. Such staff include lawyers, floodplain and wetland regulators, planners, legislators, emergency managers, and watershed managers at all levels of government.

About Jon Kusler

Dr. Jon A. Kusler, Esq. is a writer, lawyer, educator and administrator with over 40 years of experience working with legal/science/policy issues in water resources management and the management of water related lands. Dr. Kusler has published many articles, books and reports specializing in mitigation of natural hazards, wetland management, and water resources planning and he has worked extensively as a consultant to nonprofit organizations, and to state and federal agencies. Dr. Kusler was recipient of the Gilbert White award in floodplain management in 1979, the Environmental Law Institute's National Wetland Lifetime Achievement Award in 1990 and the Society of Wetland Scientist's Lifetime Achievement Award in 2009.

Reviews

Faced with flood damages increasing exponentially in response to both natural and human caused disasters, magnified by global warming, governmental agencies must confront a true dilemma. They risk being held liable for doing "too little" to prevent flood damages; or conversely, for going "too far" in regulating land use and private property in high hazard areas. Fortunately Jon Kusler's new book has arrived in the nick of time to provide the definitive guide for how to navigate these treacherous waters. It's must reading for anyone involved in floodplain development, management, or regulation. Truly a guide for the perplexed.
--Patrick Parenteau, Professor of Law, Vermont Law School

Governments face continuous legal challenges when they try to guide development to reduce floods. This book provides answers regarding legal liability of their flood regulations and actions in today's increased storm intensity and sea level rise.
--Larry A. Larson, P.E. CFM, Director Emeritus-Senior Policy Advisor, Association of State Floodplain Managers

Attorney and Scientist Dr. Jon Kusler has produced an incredibly well research book that clearly demonstrates that governments, which all too often worry about over regulation of hazardous areas, should be much more concerned about their legal, equitable and moral duty to act in such a manner as to prevent harm as they undertake permitting and construction activity. Government is vastly more likely to be sued successfully for failing to regulate and develop in a manner which later causes harm than they are for enforcing stringent, fair regulation designed to prevent harm.
--Edward Thomas, Esq. President, Natural Hazard Mitigation Association