The Expanding Role of Automated Feature Extraction in Wetlands Mapping
Held Wednesday, April 21, 2021 - 3-4:30 pm Eastern

INTRODUCTION
PRESENTER
ABSTRACT
Recent advances in remote sensing have changed how landscape features are mapped: buildings, trees, water, agriculture, etc. Can these newer techniques, presumably faster and more cost-effective, also be used to map wetlands? As complex ecological phenomena, wetlands do not have the discrete edges of buildings or other readily-defined features, and even wetland ecologists debate the nature and precision of wetland\upland transitions in the field. Manual interpretation of aerial imagery is a time-tested and effective method for creating wetland maps, but this approach is laborious and does not always capture forested wetlands and other features that are difficult to discern from above. This presentation discussed a semi-automated mapping approach that first uses high-resolution LiDAR and imagery, in combination with object-based image analysis techniques, to identify and provisionally classify wetlands. Initial mapping is then followed by manual review and correction to address errors of omission and commission and to expand wetland labeling (i.e., uncommon classes that are difficult to automate). The overall goal is to produce NWI-compliant wetlands maps more efficiently and frequently, providing data appropriate for contemporary management and future change detection.
BIO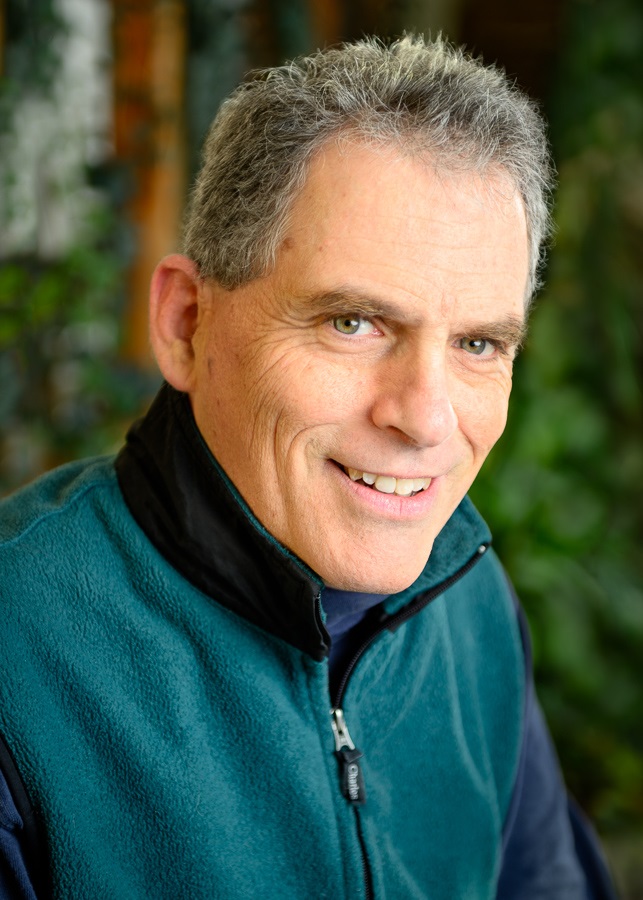 Sean MacFaden is a geospatial analyst with the University of Vermont Spatial Analysis Laboratory. He has a B.S. in Biology from Williams College, an M.S. in Wildlife and Fisheries Biology from the University of Vermont, and more than 25 years of experience in the application of geospatial technologies to natural resources issues. His work focuses on the effective mapping and interpretation of landscapes and their component features, both ecological and anthropogenic. Most recently, his research has focused on high-resolution mapping applications for tree canopy, wetlands, eroded forest roads, and vernal pools.
Part 1: Introduction: William Dooley, Policy Analyst, Association of State Wetland Managers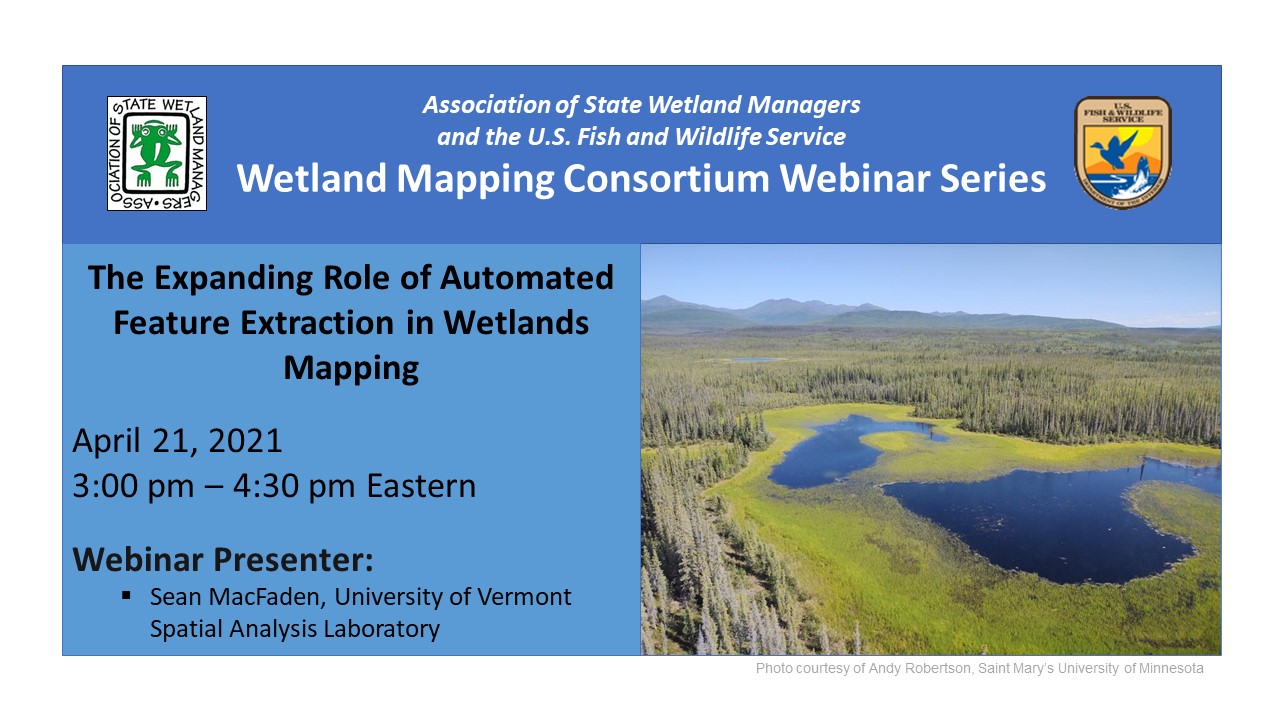 Part 1: Introduction: William Dooley, Policy Analyst, Association of State Wetland Managers
Presenter: Sean MacFaden, University of Vermont Spatial Analysis Laboratory
Part 2: Presenter : Sean MacFaden, University of Vermont Spatial Analysis Laboratory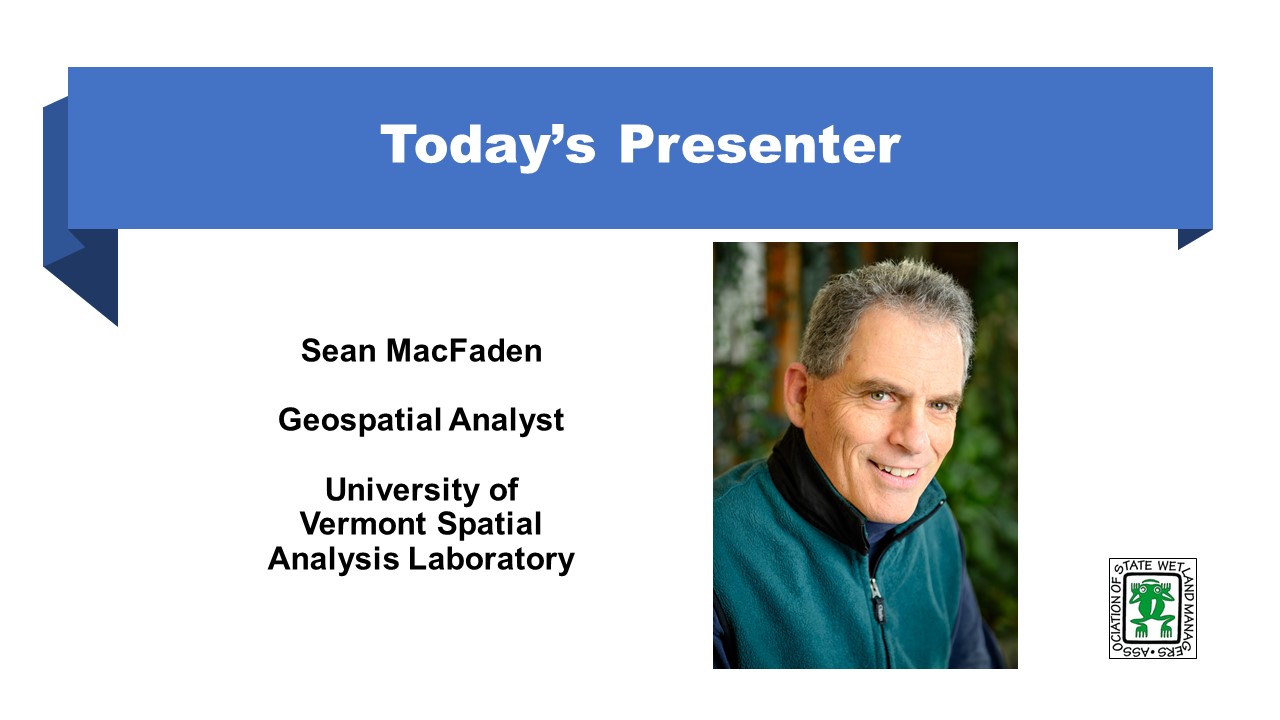 Part 2: Presenter: Sean MacFaden, University of Vermont Spatial Analysis Laboratory
Part 3: Questions & Answers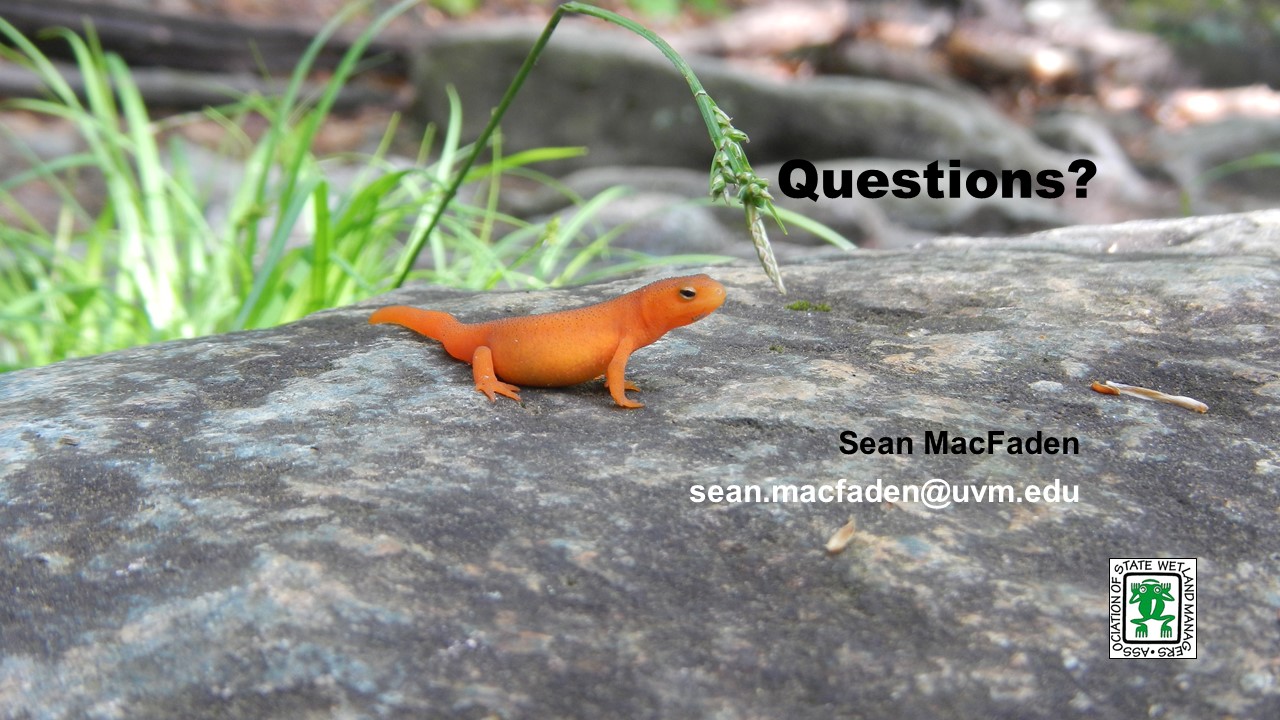 Part 3: Questions & Answers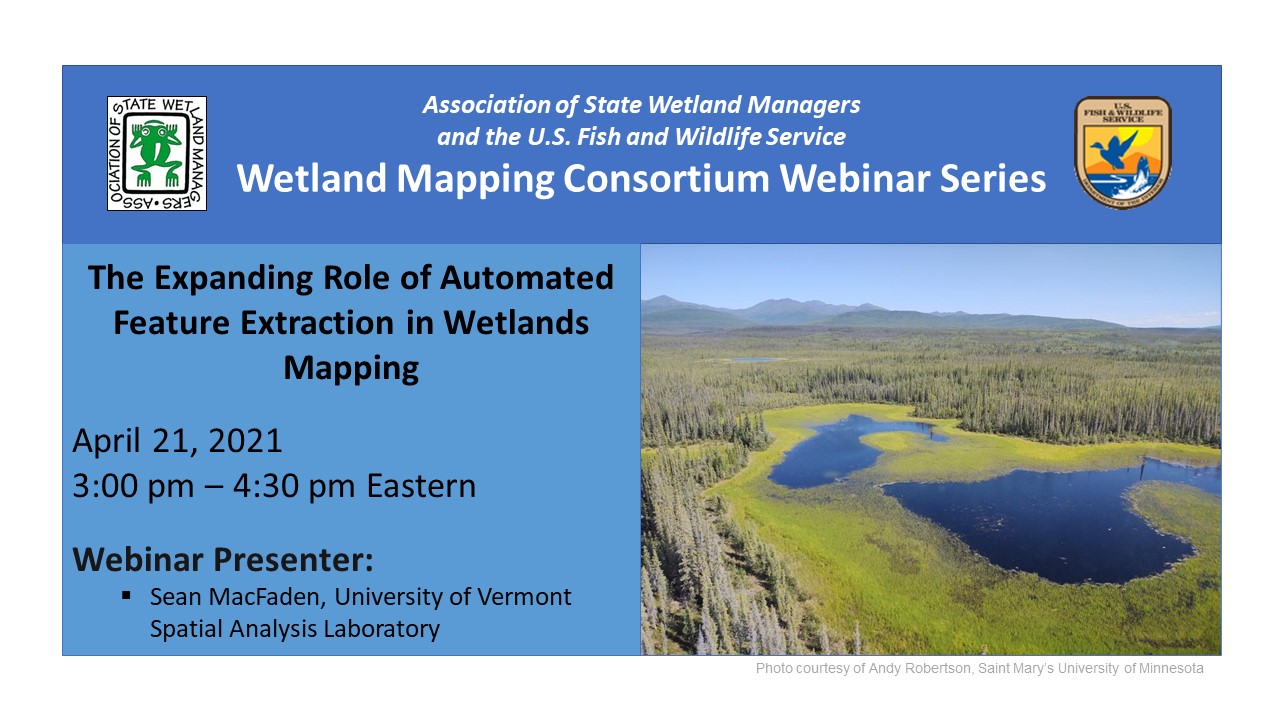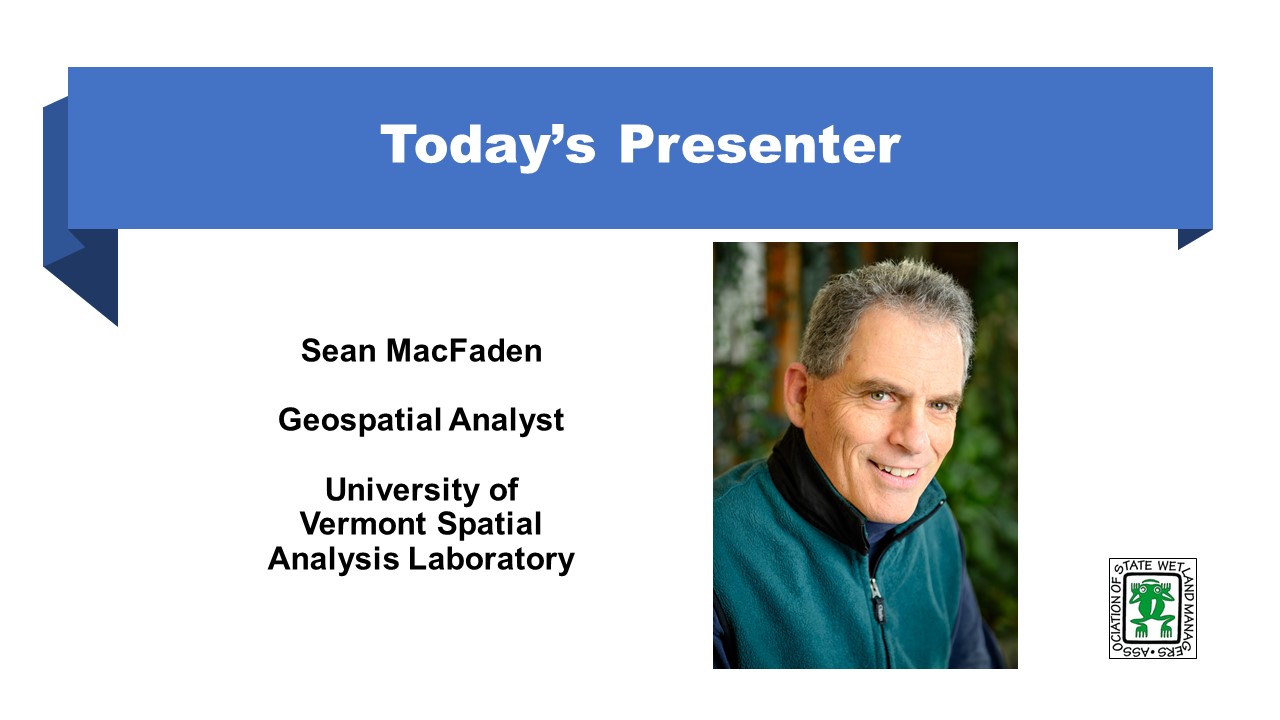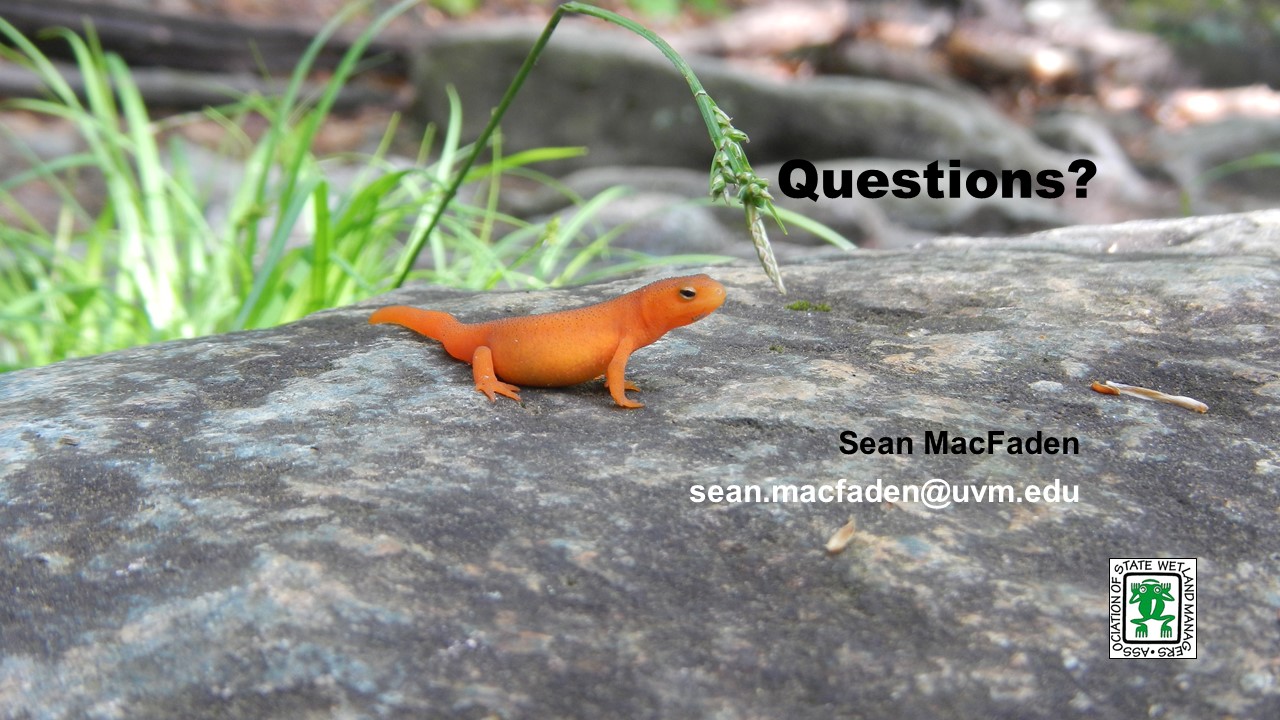 Mapping Hydrologic Connectivity and Wetlands with LiDAR: Processes and Techniques from Minnesota and Wisconsin
Tuesday, January 19, 2021 - 3:00pm-4:30pm Eastern


INTRODUCTION
PRESENTERS
WDNR Wisconsin Wetland Inventory (WWI) Map Production SOP
ABSTRACTS
Sean Vaughn
While LiDAR-derived digital elevation models (DEM) are excellent products to characterize earth's topographic surface with high accuracy and detail, these foundational data cannot fully serve water related business needs because LiDAR does not represent hydrologic connectivity. LiDAR-mapped landscape features, such as road and railroad grades, act like dams in DEM surfaces where culverts and bridges exist underneath. These synthetic digital dam barriers must be breached to replicate true landscape hydrologic connectivity. Termed DEM hydrologic modification in Minnesota, this process involves augmenting source LiDAR elevation values with information about drainage connections at the surface and subsurface of the landscape. This digital-topographic alteration allows modeled water to accurately flow downstream through digital dams resulting in a special hydrologic DEM surface called a hydro-modified DEM (hDEM).
Rick Moore
DEM hydro-modification has a long history in Minnesota, but the work was completed independently by different organizations implementing different levels of hydro-modification. A DEM Hydro-modification workgroup under the 3D Geomatics Committee was formed three years ago bringing together subject matter experts in Minnesota on DEM hydro-modification. This workgroup developed as a community of practice and worked towards developing standards, methodology and protocols pertaining to DEM hydro-modification. Collaborating with other experts allowed the group to develop standardized attributes, templates, and a database of digital dam breachlines acquired from state funded projects for DEM hydro-modification. This dynamic dataset will be the repository for future hDEM development work. This presentation described our collaboration and the products developed by this workgroup.
Calvin Lawrence and Chris Noll
This presentation gave an overview of the LiDAR-derived layers being used by WDNR Wisconsin Wetland Inventory (WWI) staff to produce new & improved wetland and surface water maps for the National Wetland Inventory (NWI). The presenters showed how to incorporate various LiDAR products and visualization methods to improve the quality and consistency of interpreted polygon boundaries and attribution on wetland maps with the aid of bare earth elevation, slope, canopy height models, and more.
BIOS

Sean Vaughn is a GIS hydrologist and LiDAR data steward with 25+ years of GIS experience at Minnesota IT Services serving the Department of Natural Resources. In these Hydro/LiDAR roles, he focuses on the development of statewide hydrography GIS datasets and LiDAR-derived products for utilization in water resource management, elevation-derived hydrography, and hydro-terrain analysis. Sean is the cochairmen of the Minnesota 3D Geomatics Committee where he serves as a principal champion for bringing next generation, high-density LiDAR to Minnesota.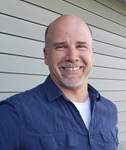 Rick Moore is a GIS Analyst - LiDAR Data Steward with Minnesota IT Services Partnering with the Department of Natural Resources. He graduated from Minnesota State University-Mankato in 2004 with an M.S. degree in Geography specializing in Geographic Information Systems (GIS) and has a BS degree in Geography from the University of Minnesota in 1994. Prior to coming to MNIT@DNR, he worked at the Water Resources Center at Minnesota State University Mankato from 2007 - 2015. Rick focuses on hydro-modification of digital elevation models (DEM) and hydro-terrain analysis using DEMs derived from LiDAR. These hydro-modified DEMs are inputs for hydrologic modeling and applications that target potential locations for agricultural conservation practices.





Calvin Lawrence has been vectorizing the Wisconsin Wetland Inventory (WWI) since 1990, first as a student intern at UW Madison and as an LTE with the Wisconsin DNR. Since 1996 unfortunately, he has been the sole FTE working on the GIS side of the inventory for the entire state. But, with the help of many LTE staff over the years as well as partnerships with Southeastern Wisconsin Regional Planning Commission (SEWRPC) and GeoSpatial Services at St. Mary's University in Minnesota, the last two counties using traditional mapping methods were completed in 2016. Some of those methods used for vectorization from traditional photography have been tweaked and are being applied in the LiDAR arena for wetland mapping.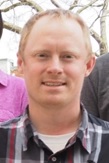 Chris Noll is a GIS developer and cartographer for the Wisconsin Wetland Inventory (WWI). Over the past three years, he led research and development on many of the LiDAR-based approaches discussed in this presentation while working to complete objectives on an EPA Wetland Program Development Grant to overhaul and modernize the WWI. He blends extensive wetland field botany and GIS expertise to specialize in wetland map production, coding workflow efficiency tools using Python, and ongoing R&D of methods that further reduce production costs while maintaining or improving wetland data quality and accuracy.
Part 1: Introduction: William Dooley, Policy Analyst, Association of State Wetland Managers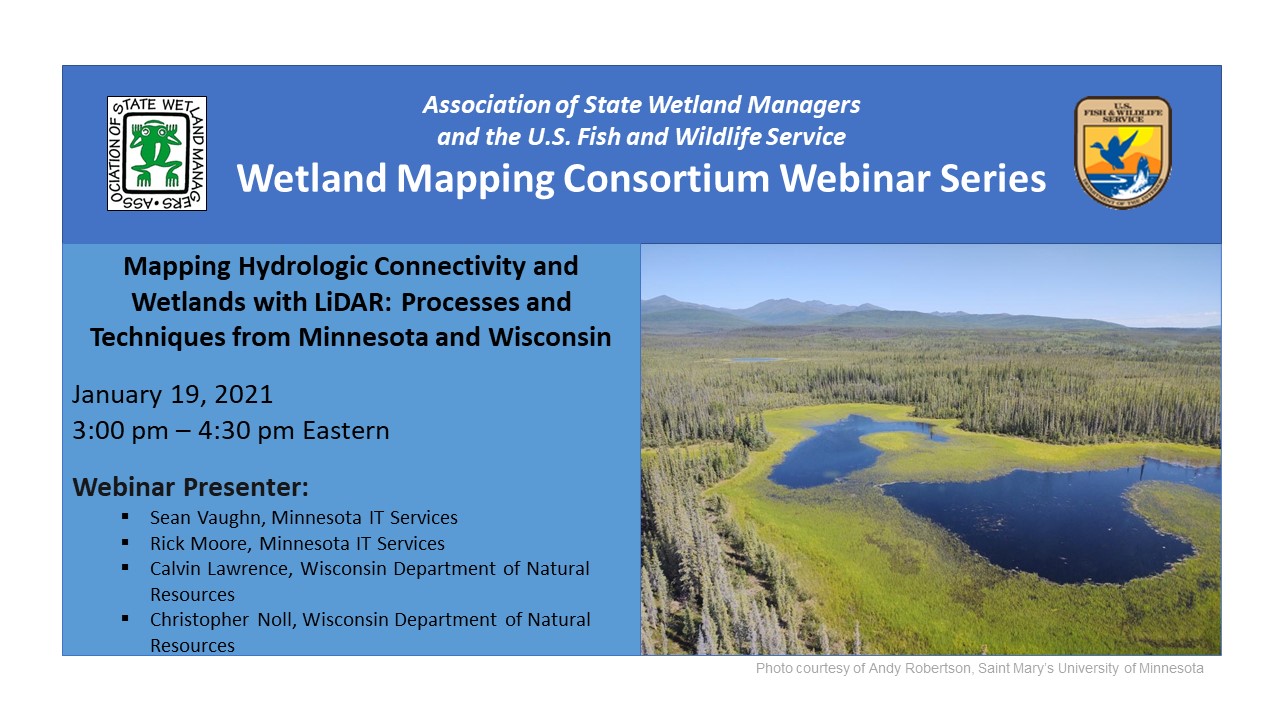 Part 1: Introduction: William Dooley, Policy Analyst,, Association of State Wetland Managers
Presenter: Rick Moore, Minnesota IT Services and Sean Vaughn, Minnesota IT Services
Part 2: Presenters : Christopher Noll, Wisconsin Department of Natural Resources and Calvin Lawrence, Wisconsin Department of Natural Resources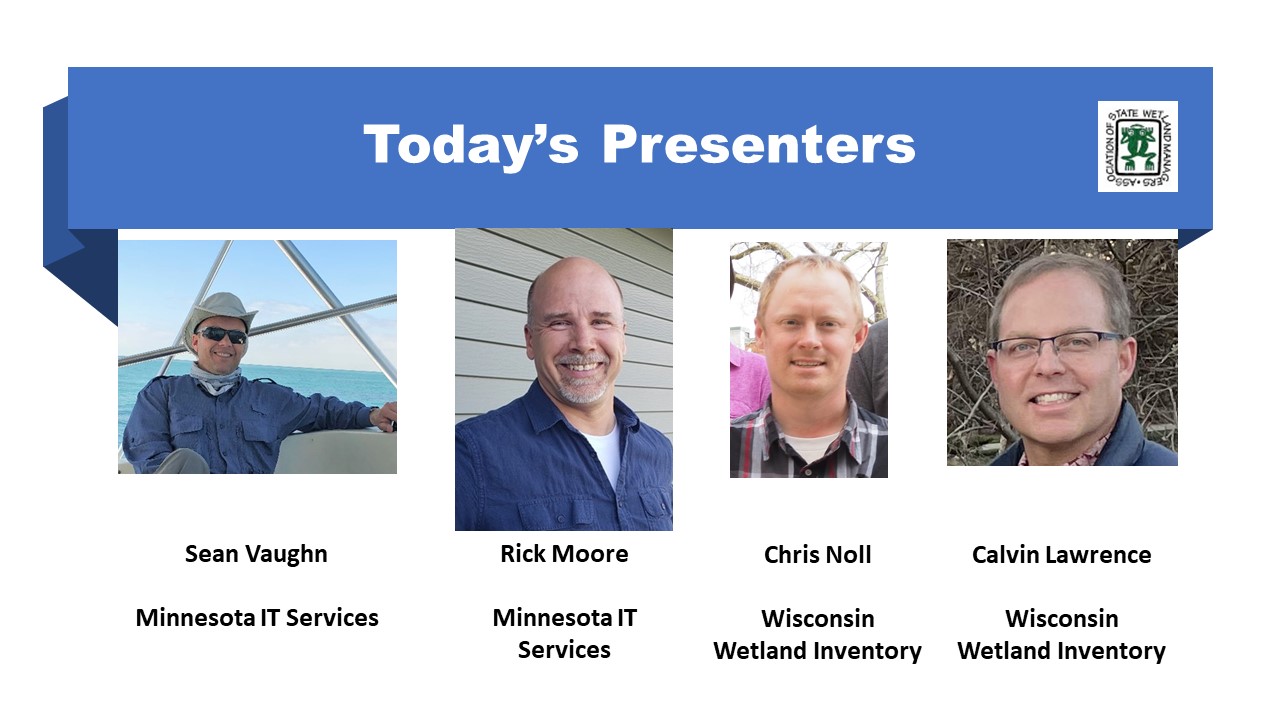 Part 2: Presenters: Christopher Noll, Wisconsin Department of Natural Resources and Calvin Lawrence, Wisconsin Department of Natural Resources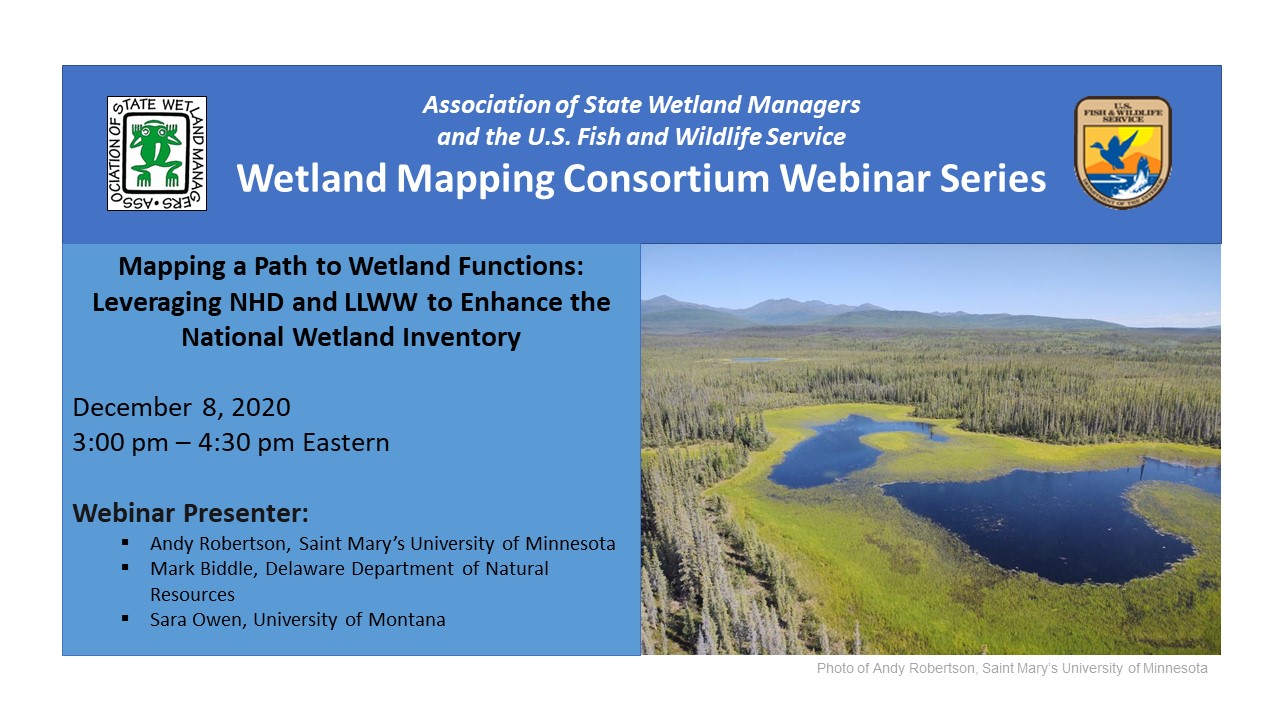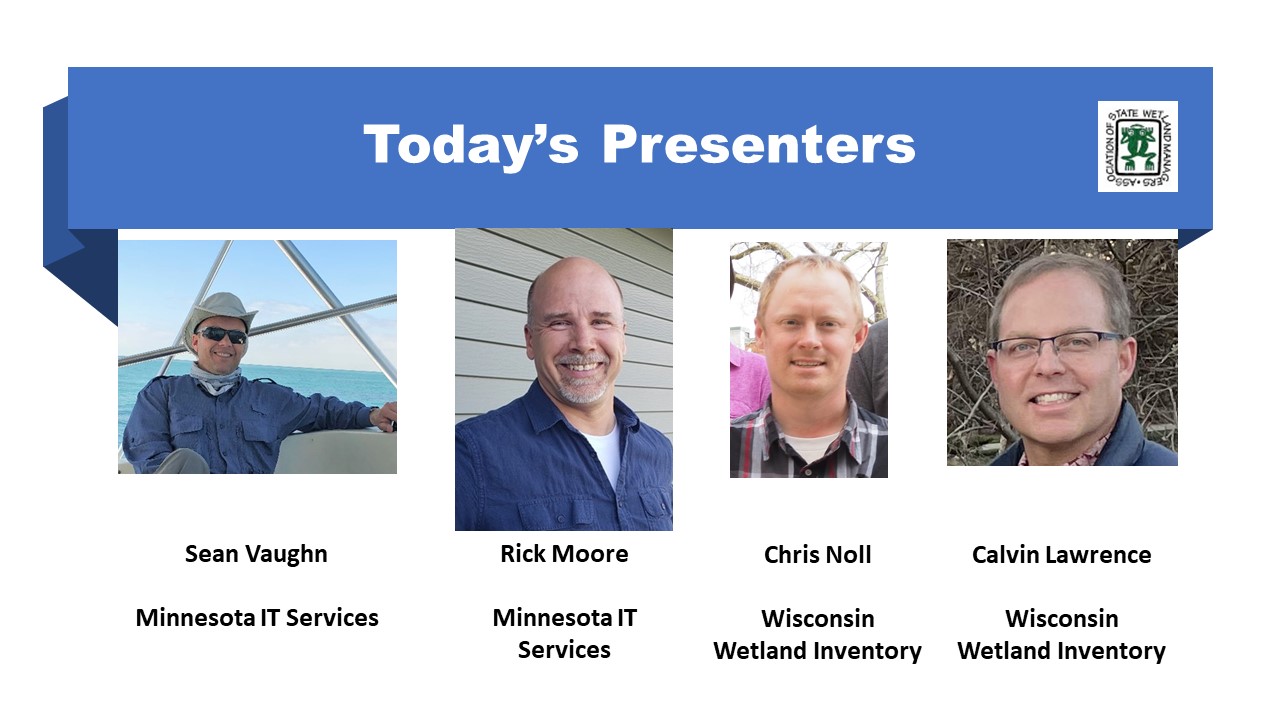 View Past Wetland Mapping Consortium Webinars Here
View a List of Wetland Mapping Consortium Webinar Recordings Here

View Upcoming Wetland Mapping Consortium Webinars Here