NWI Updates: What's New at the National Wetlands Inventory Program
Held Tuesday, November 1, 2022 - 3:00 pm - 4:30 pm Eastern
INTRODUCTION
PRESENTERS [POWERPOINT PRESENTATION]
Jane Harner, U.S. Fish and Wildlife Service National Wetlands Inventory

Herb Bergquist, U.S. Fish and Wildlife Service National Wetlands Inventory
ABSTRACT
This webinar highlighted what's new at the National Wetlands Inventory Program. This presentation featured important NWI updates for anyone using or producing NWI wetlands data. The presenters provided background on NWI's renewed commitment to working with the USGS NHD/3DEP program in an effort to bring these datasets closer together. In addition, they provided details on new guidance documents, information on mapping wetlands to the Federal standard, introduce a new linear data layer option for those interested in mapping beyond the standard, showcase new and improved QAQC tools, and report on the status of mapping in the U.S. The NWI Program introduced new staff members and provide information on how to best communicate with the Program and request support!
BIOS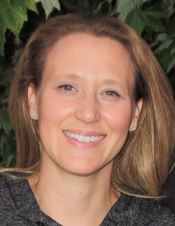 Jane Harner joined the USFWS National Wetlands Inventory Program in 2007 as a GIS Analyst and works at the NWI Data Center located in Madison, Wisconsin. In her current role as Database Administrator, she maintains the National Wetlands Data Layer, incorporating new data updates and preparing data to be posted biannually to the Wetlands Mapper. Jane also assists with project coordination, tracking active mapping projects and facilitating new project initiation. Additionally, Jane is engaged in outreach for the NWI Program, which includes coordinating American Wetlands Month communications and updating website content.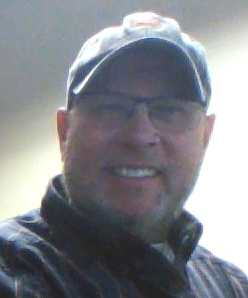 Herb Bergquist is USFWS National Wetlands Inventory Field Operations Team Lead and oversees NWI Program field operations, supervising regional wetland coordinators throughout the lower 48 states. His position includes project development and mapping management; Quality Control of wetlands data; coordination and communication with partners, cooperators, and contractors; and taking a leadership role in Program visioning development. Herb started working with the USFWS in 1993 as a field technician for the Northeast Loon study and the Environmental Monitoring and Assessment Program (EMAP). After a short stint with the State of New Hampshire Environmental Services program, he returned to USFWS and worked in various capacities for the Northeast Region Ecological Services Division focusing on wetlands, GIS mapping/analysis, and database management. Herb developed and produced numerous wetland functional assessments under Ralph Tiner (NE Regional Wetlands Coordinator) throughout the northeast region during that tenure.

Part 1: Portia Osborne, Project Manager, National Association of Wetland Managers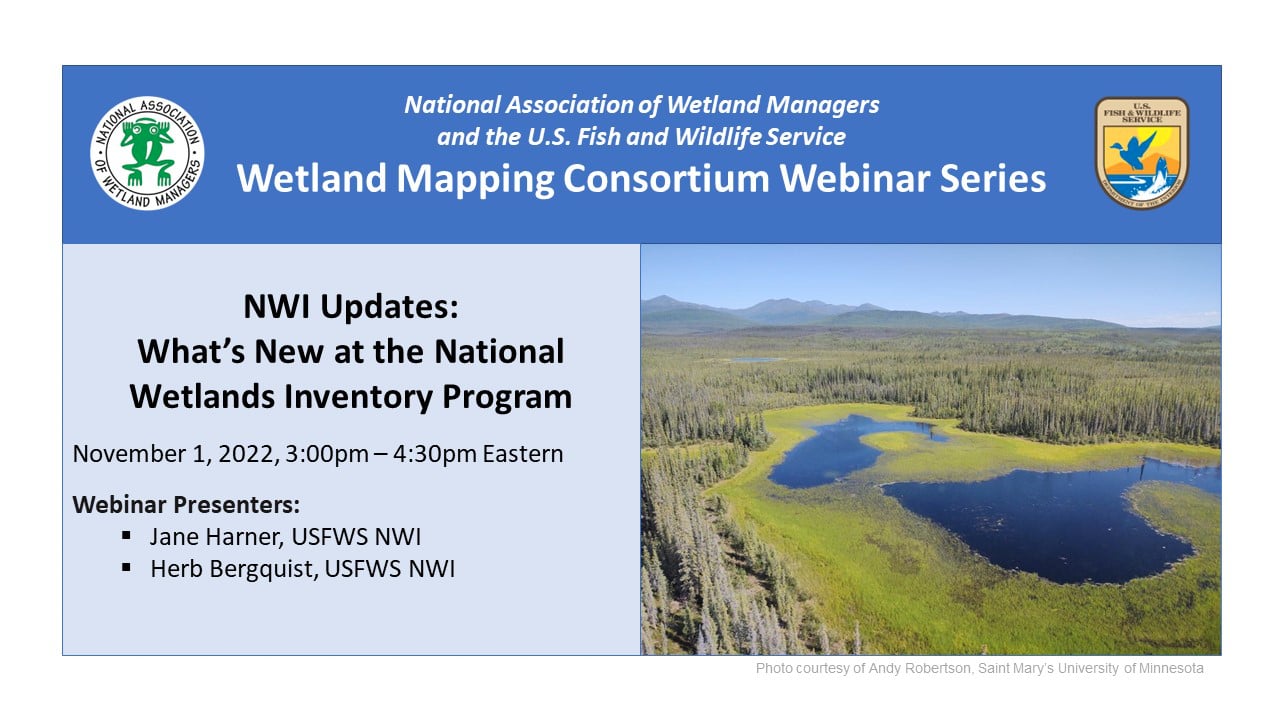 Part 1: Introduction: Portia Osborne, Project Manager, NAWM
Presenters: Herb Bergquist, U.S. Fish and Wildlife Service National Wetlands Inventory and Jane Harner, U.S. Fish and Wildlife Service National Wetlands Inventory
Part 2: Presenters: Herb Bergquist, U.S. Fish and Wildlife Service National Wetlands Inventory and Jane Harner, U.S. Fish and Wildlife Service National Wetlands Inventory
Part 2: Presenters: Herb Bergquist, U.S. Fish and Wildlife Service National Wetlands Inventory and Jane Harner, U.S. Fish and Wildlife Service National Wetlands Inventory
Part 3: Questions & Answers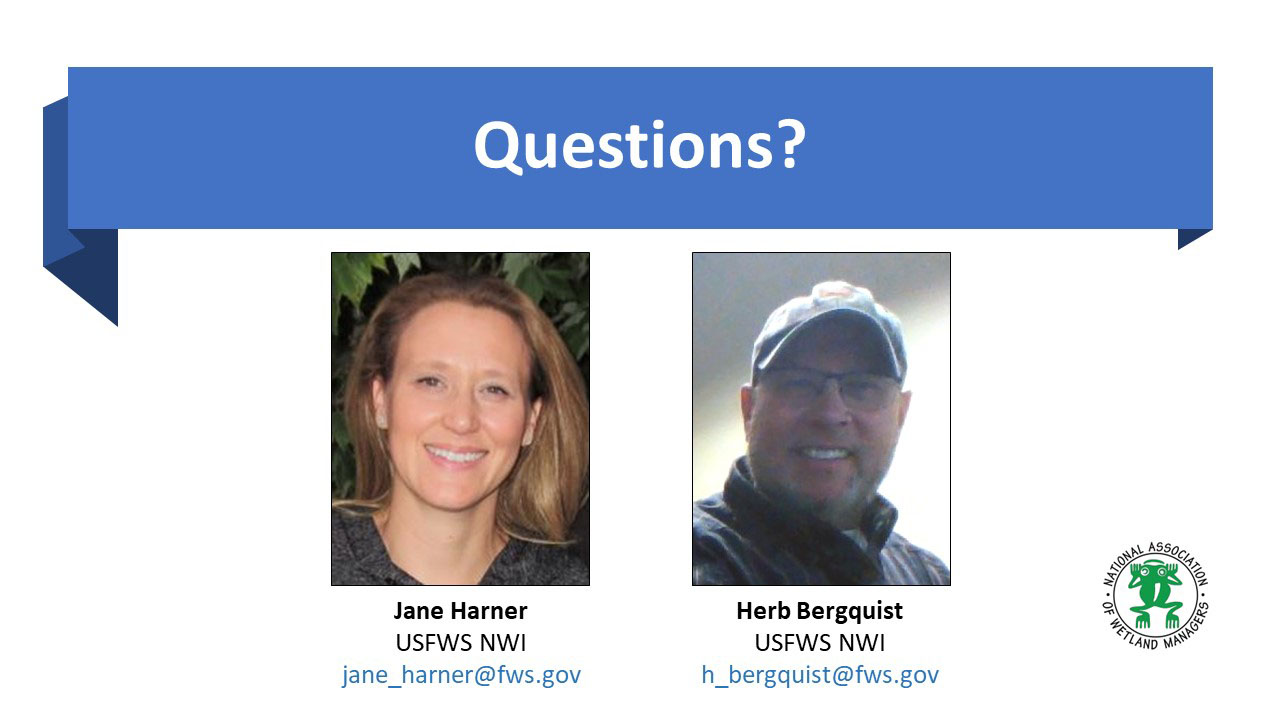 Part 3: Questions & Answers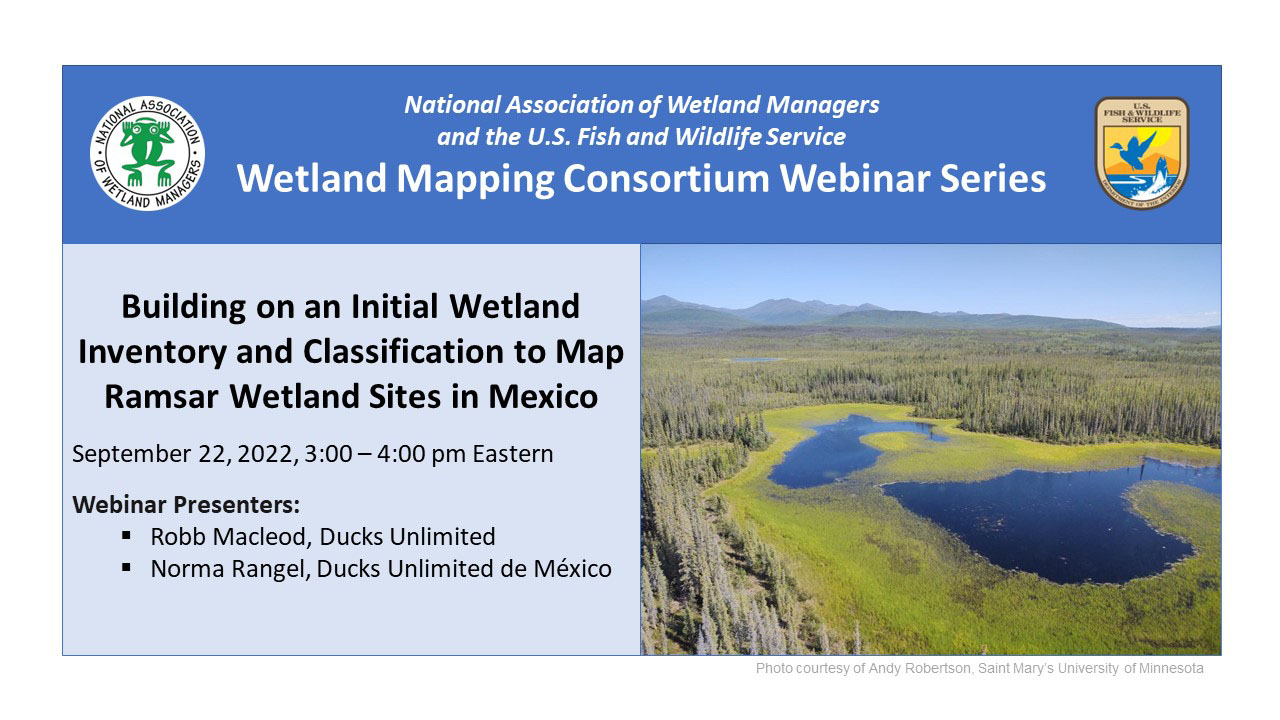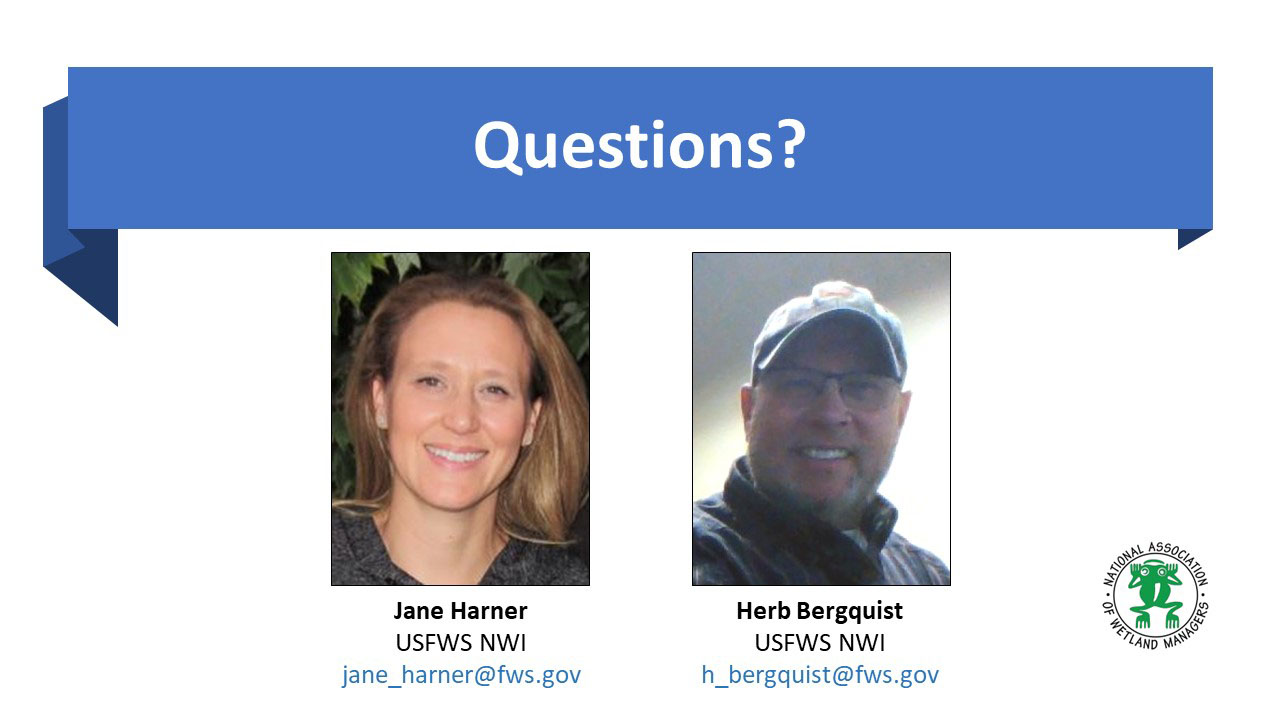 Building on an Initial Wetland Inventory and Classification to Map Ramsar Wetland Sites in Mexico
Held Thursday, September 22, 2022 - 3:00 pm - 4:00 pm Eastern
INTRODUCTION
PRESENTERS
ABSTRACT
For 30 years, Ducks Unlimited de México (DUMAC) has worked on projects aimed at generating information to classify and quantify the different wetland ecosystems in Mexico. In 1991, DUMAC started the Wetlands Inventory and Classification project in Mexico, which was the first initiative in the country to characterize and quantify the wetlands of Mexico in a homogeneous way with a classification scheme. The objective of this initiative was to generate basic information that would support decision-making to achieve long-term conservation for the benefit of waterfowl and other wildlife. DUMAC, as a leading institution in wetlands mapping in Mexico, is currently working with the National Water Commission (CONAGUA) in the development of a wetlands inventory in northern Mexico (1:50,000) and since 2020 it has been working with the DOI for the mapping of Ramsar Sites in Mexico in coordination with the National Commission of Natural Protected Areas (CONANP).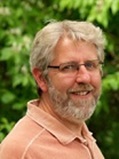 Robb Macleod is the National GIS Coordinator for Ducks Unlimited. He has been working for Ducks Unlimited in the GIS and Remote Sensing field for over 25 years. His current duties include coordinating all of the geospatial activities for Ducks Unlimited. Robb has been active in mapping wetlands in the Great Lakes for over 19 years with previous experience mapping wetlands and land cover in Alaska.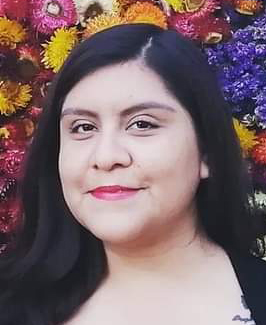 Norma Rangel is a geographer from the University of San Luis Potosí (UASLP) and has a Master's in Environmental Management from El Colegio de la Frontera Norte (El COLEF). She has worked in academic institutions such as the UASLP and El COLEF, as well as in government institutions such as the National Institute of Statistics and Geography (INEGI). In 2017 she joined Ducks Unlimited de México (DUMAC) as Project Supervisor and since 2020 is the Coordinator of Remote Sensing and GIS Department.
Part 1: Portia Osborne, Project Manager, National Association of Wetland Managers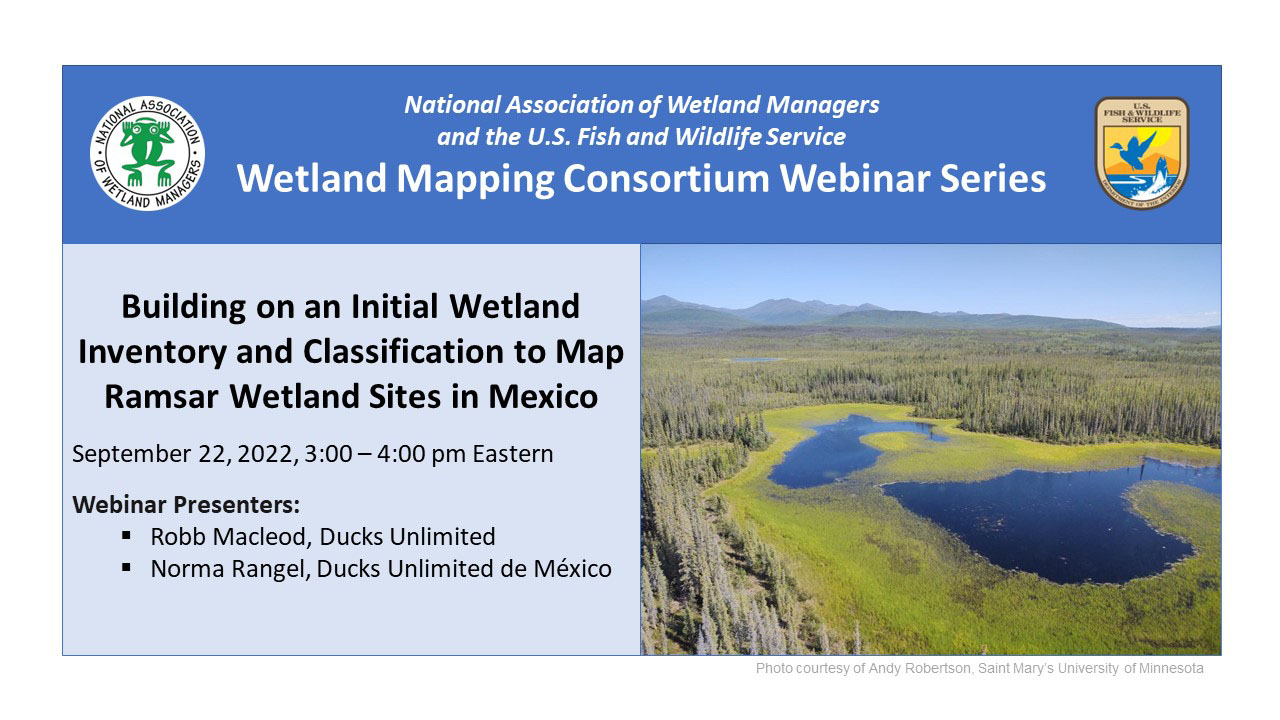 Part 1: Introduction: Portia Osborne, Project Manager, NAWM
Presenter: Robb Macleod, Ducks Unlimited and
Norma Rangel, Ducks Unlimited de México
Part 2: Questions & Answers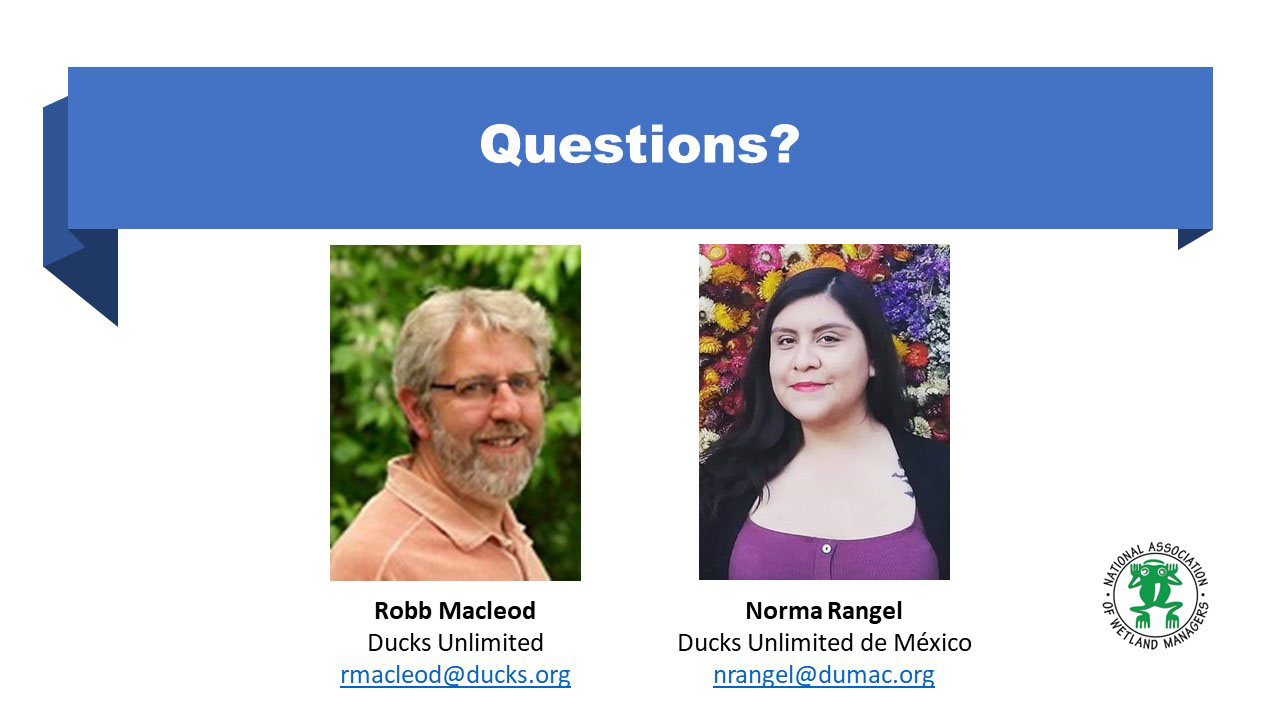 Part 2: Questions & Answers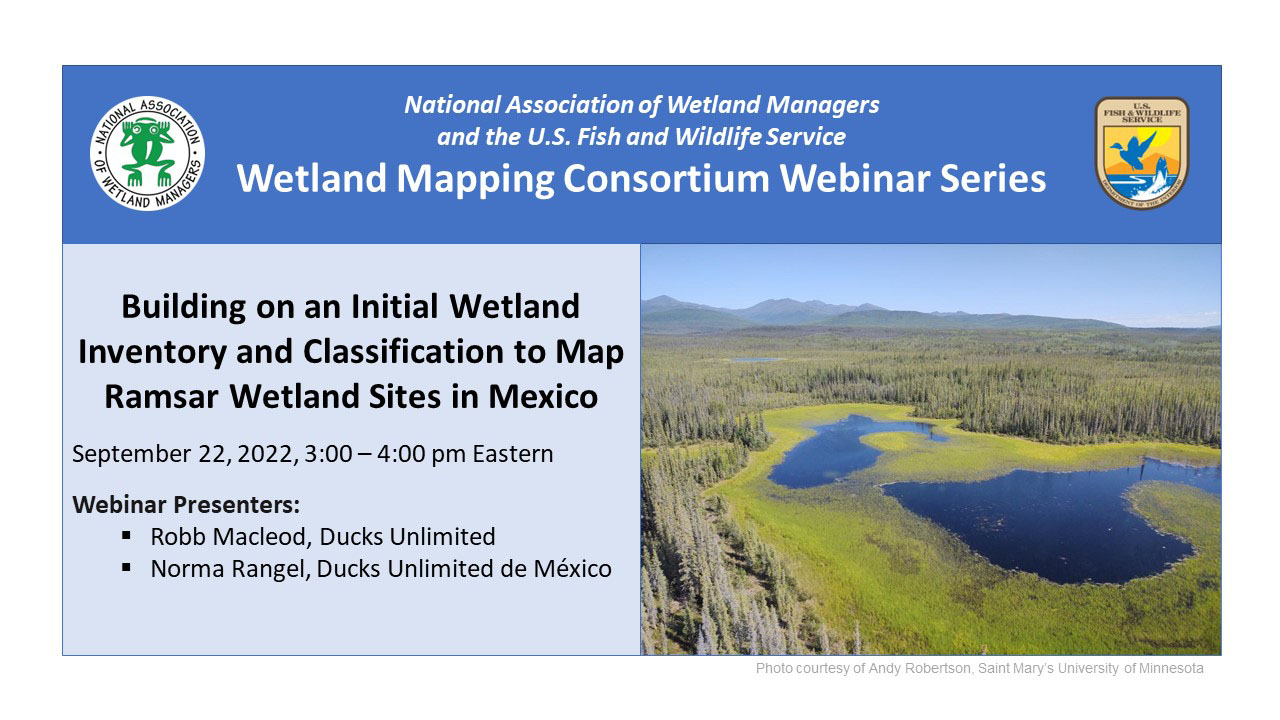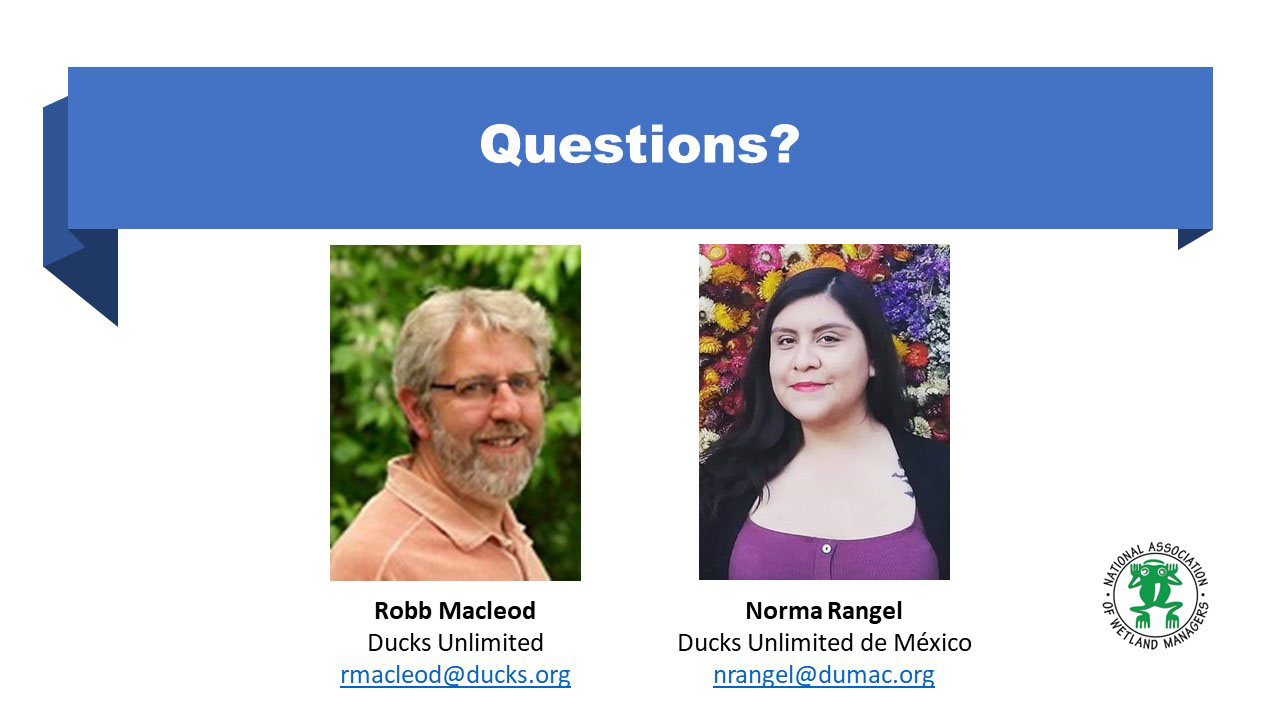 Creative Approaches to Funding Wetland Programs and Inventories
Held Wednesday, June 15, 2022 - 3-4:30 pm Eastern
INTRODUCTION
PRESENTERS
ABSTRACTS
Andy Robertson
Creative Approaches to Funding Wetland Programs and Inventories
Saint Mary's University of Minnesota GeoSpatial Services (GSS) has been working to help build wetland data and programs with a variety of federal and state partners for over 20 years. Recognizing that funding for wetland management can often be challenging to obtain, GSS and our partners have employed a variety of strategies to generate initial and ongoing program funding including:
Leveraging techniques and technologies – better, faster, cheaper

Creating linkages to other funded programs (e.g. water quality management)

Adding value to wetland mapping databases (e.g. hydrogeomorphic attributes, wetland functional assessment)

Mixing funding sources and levels to share the cost burden

Development of stakeholder support through education and outreach
This presentation focused on the experiences of two decades of creativity around wetland inventory and program development. Approaches, funding sources, agency involvement and data enhancements were reviewed using specific examples from successful projects.
Mike Jones
The Stockbridge-Munsee Community's Approach to Funding and Sustaining a Tribal Wetland Program
Sustaining a formal wetland program is a major challenge for tribes throughout the country. Tribes often rely on EPA Wetland Program Development Grants (WPDGs), but those have limitations for routine work that is necessary to maintain a program. As a result, many tribes have seen their wetland programs disappear due to lack of long-term funding and staffing. The Stockbridge-Munsee Community (SMC) has been able to sustain their wetland program since 2012 by diversifying funding sources and relying on partnerships within and outside of the Tribe. While WPDGs are still a major funding source, SMC has secured a wide variety of other grant and cost-share funds to cover program activities that are not allowable under WPDGs. SMC also has emphasized building Tribal capacity to improve program efficiency and reduce costs. While each Tribe is unique, some of these approaches can be implemented by other tribes to help sustain their wetland programs.
Tim Bixler
Missouri's effort to form partnerships and secure funding to update the National Hydrography Dataset and National Wetland Inventory.
The current geospatial data for Missouri's NHD and NWI was largely developed in the 1980's. Despite their age, inherent inaccuracy, and coarse resolution, both are still foundational GIS layers used on a wide range of applications for a host of federal, state, county, and municipal agencies, as well as by the private sector and individual citizens. Unfortunately, these datasets must be used with broad caveats and limitations. Missouri's population, landscape, and climate patterns have and are continuing to change, putting lives, properties, infrastructure, and natural resources at risk to natural hazards like extreme flooding. Making informed decisions with difficult trade-offs in a complex world relies on accurate and up-to-date information. Technical advancements in GIS data and processing make updating these two spatial workhorses an attractive venture and would drastically enhance their utility to a host of stakeholders. Communicating across agencies to generate support for such an endeavor takes time, information, and flexibility both within an organization and among partners.
BIO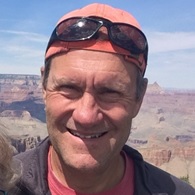 Andy Robertson is the Executive Director of GeoSpatial Services at Saint Mary's University of Minnesota. In this role, he is responsible for oversight and management of all GeoSpatial Services projects, activities and staff. GeoSpatial Services is engaged in a wide variety of projects across the Lower 48 and Alaska including wetland inventory; National Hydrography Dataset updates; spatial data development; and, natural resource condition assessments. Andy has a diverse background in spatial information systems, watershed planning, wetland inventory, forest management, environmental impact assessment, desktop and server system support and database administration. He is a Registered Professional Forest Technologist (Alberta, Canada) and has experience leading natural resource projects for both private sector companies and public agencies across Canada and the United States including the Department of Interior, United States Army Corp of Engineers, NOAA, and the Department of Agriculture. He is also a steering committee member for the Wetland Mapping Consortium and is co-chair of the Alaska GeoSpatial Council Wetland Technical Group. Andy has a Forest Technology Diploma from Sault College of Applied Technology in Ontario, Canada, a B.Sc. in Environmental Science from the University of Waterloo and has completed postgraduate work in forest management at the University of Toronto.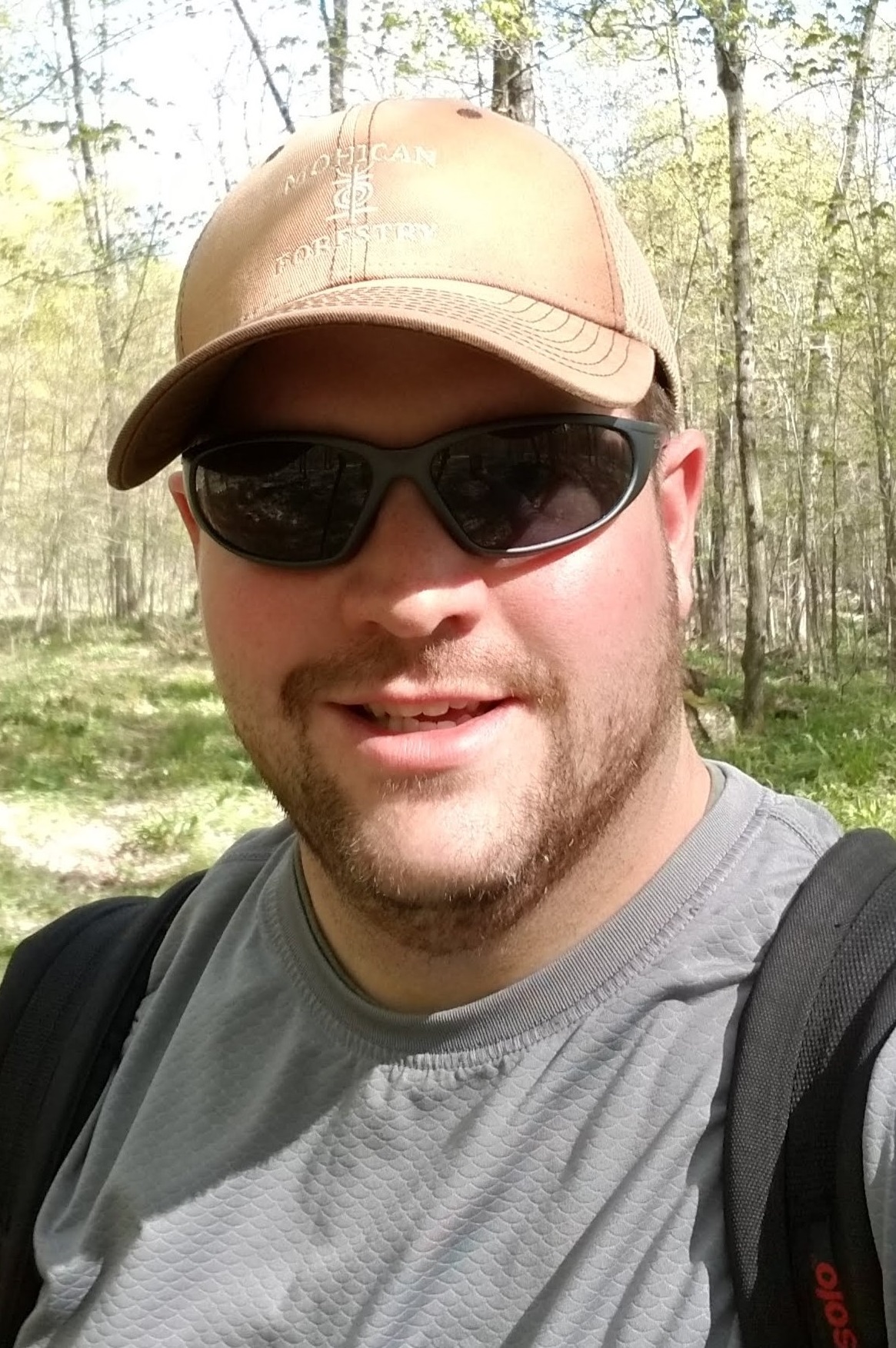 Mike Jones is the Wetland Specialist for the Stockbridge-Munsee Community, a Federally-recognized tribe in Northeast Wisconsin. For the last five years, he has managed the Tribe's Wetland Program, which focuses on protecting, monitoring, and restoring wetlands on Tribal lands and within the greater watershed. Mike has a B.S. in Biology and Wildlife Ecology from the University of Wisconsin-Stevens Point, and an M.S. in Wildlife and Fisheries Resources from West Virginia University.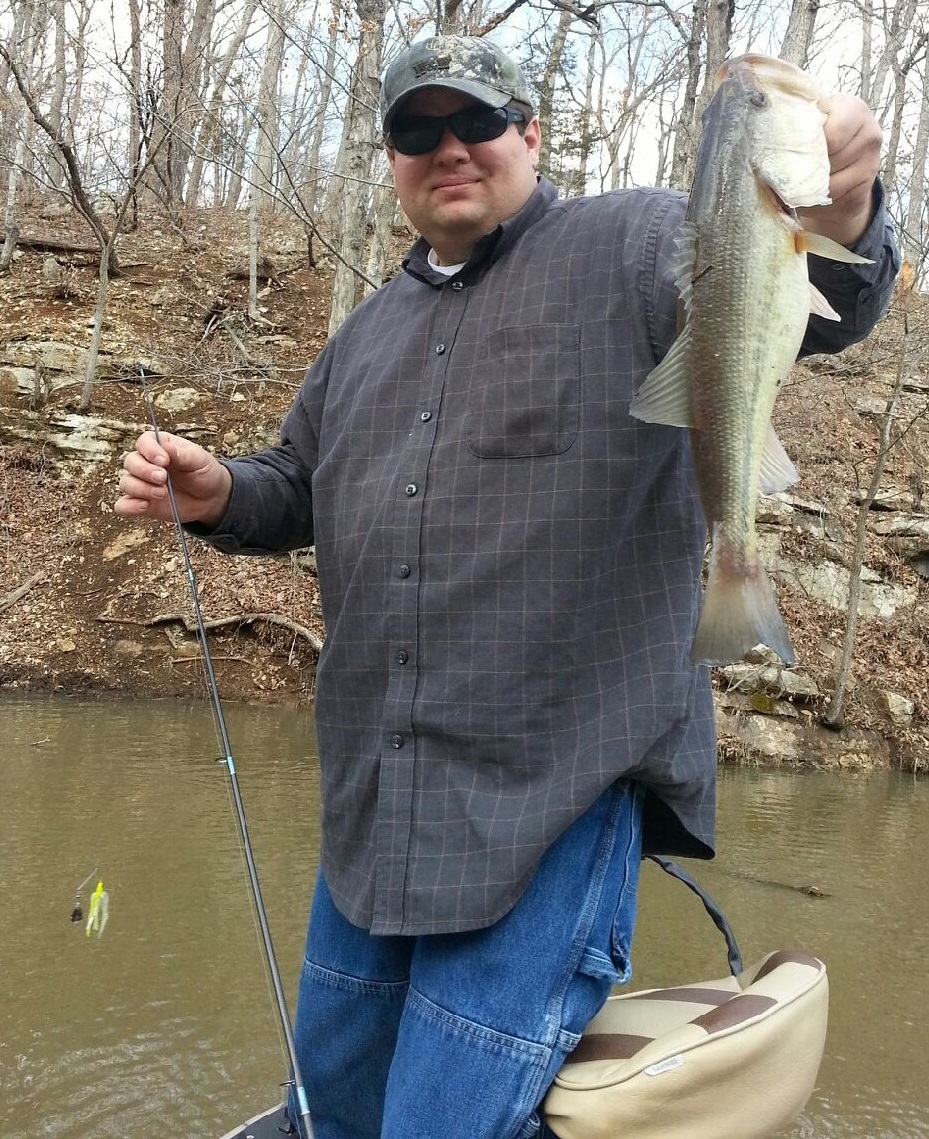 Tim Bixler is the IT Database & GIS Supervisor for the Missouri Department of Conservation (MDC), a state agency that manages the fish, forest, and wildlife of Missouri. In this role he manages the Department's Geographic Information System (GIS) and SQL Server Environment. Tim represents MDC on the Missouri GIS Advisory Council (MGISAC) and currently serves as the Chair-Elect on the Council. Tim has 18 years of experience working with GIS in natural resource and conservation related agencies and enjoys managing data and applications that help people discover nature and make informed conservation related decisions. He holds a Bachelor of Science degree in Geography with a minor in Cartographic Sciences from Missouri State University and is GISP certified.
Part 1: Portia Osborne, Project Manager, National Association of Wetland Managers
Part 1: Introduction: Portia Osborne, Project Manager, NAWM
Presenter: Andy Robertson, GeoSpatial Services at Saint Mary's University of Minnesota
Part 2: Presenter: Mike Jones, Stockbridge-Munsee Community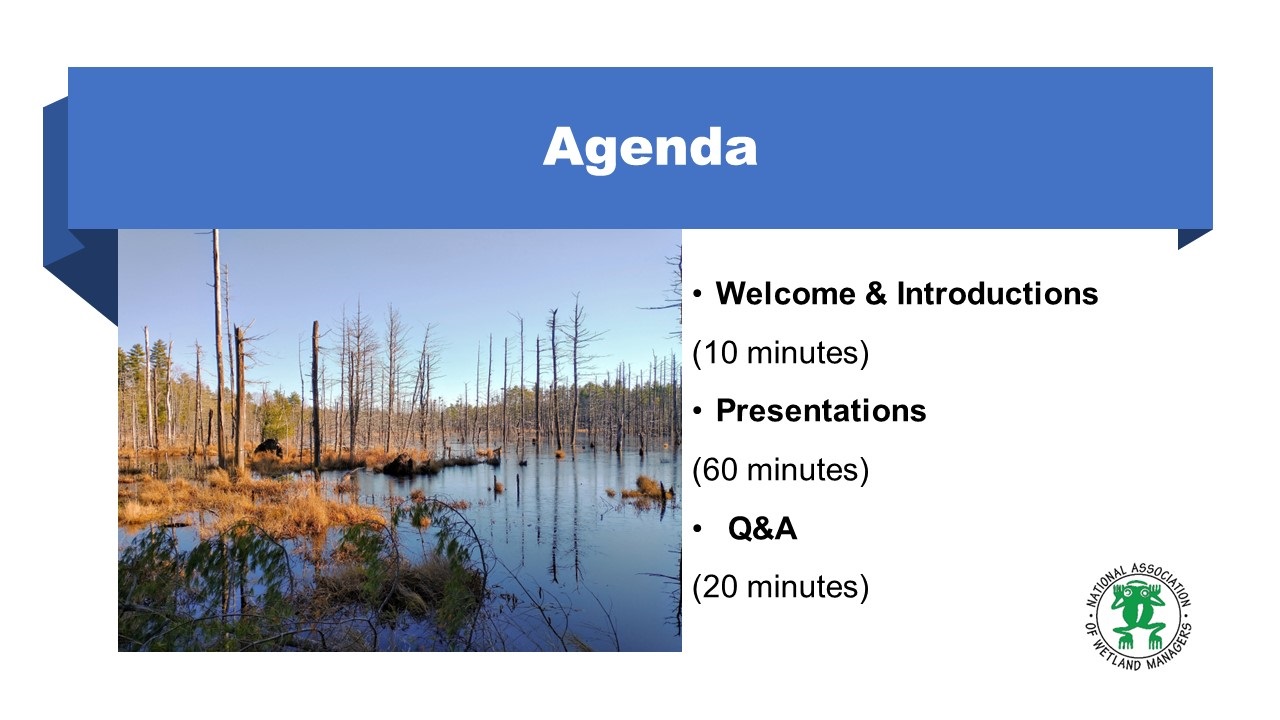 Part 2: Presenter: Mike Jones, Stockbridge-Munsee Community
Part 3: Presenter: Tim Bixler, Missouri Department of Conservation; :Questions & Answers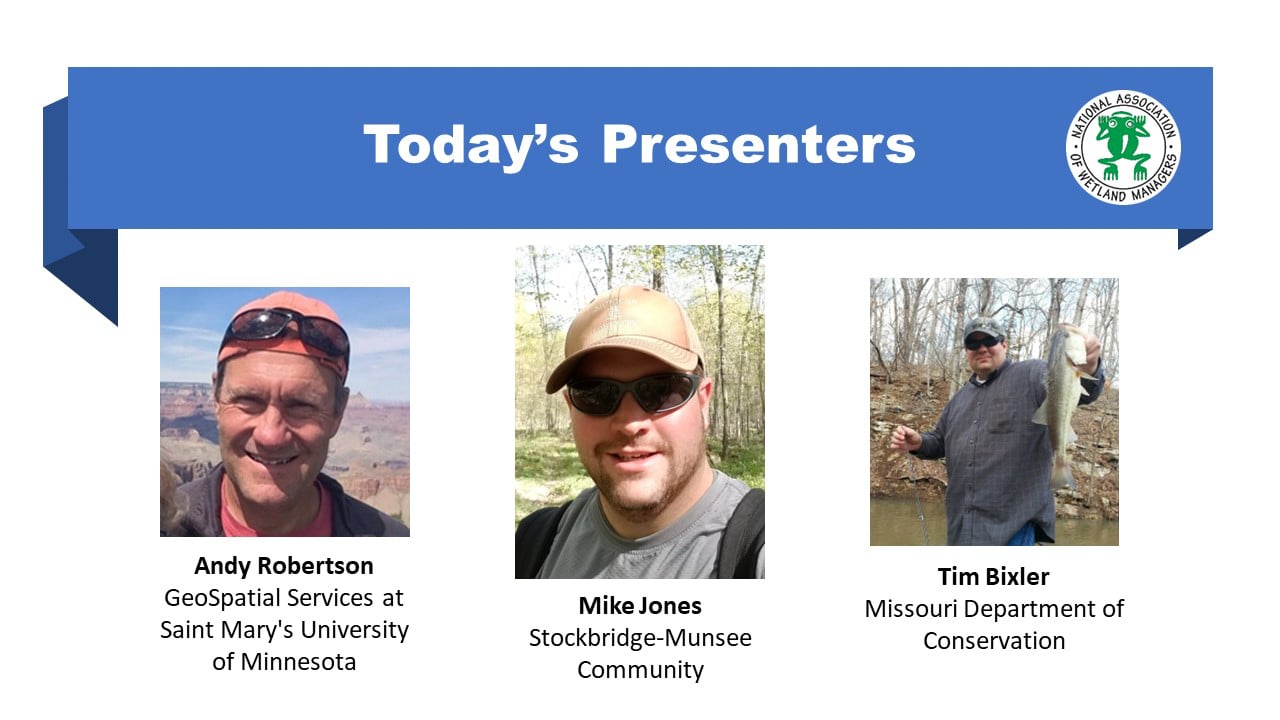 Part 3: Presenter: Tim Bixler, Missouri Department of Conservation; Questions & Answers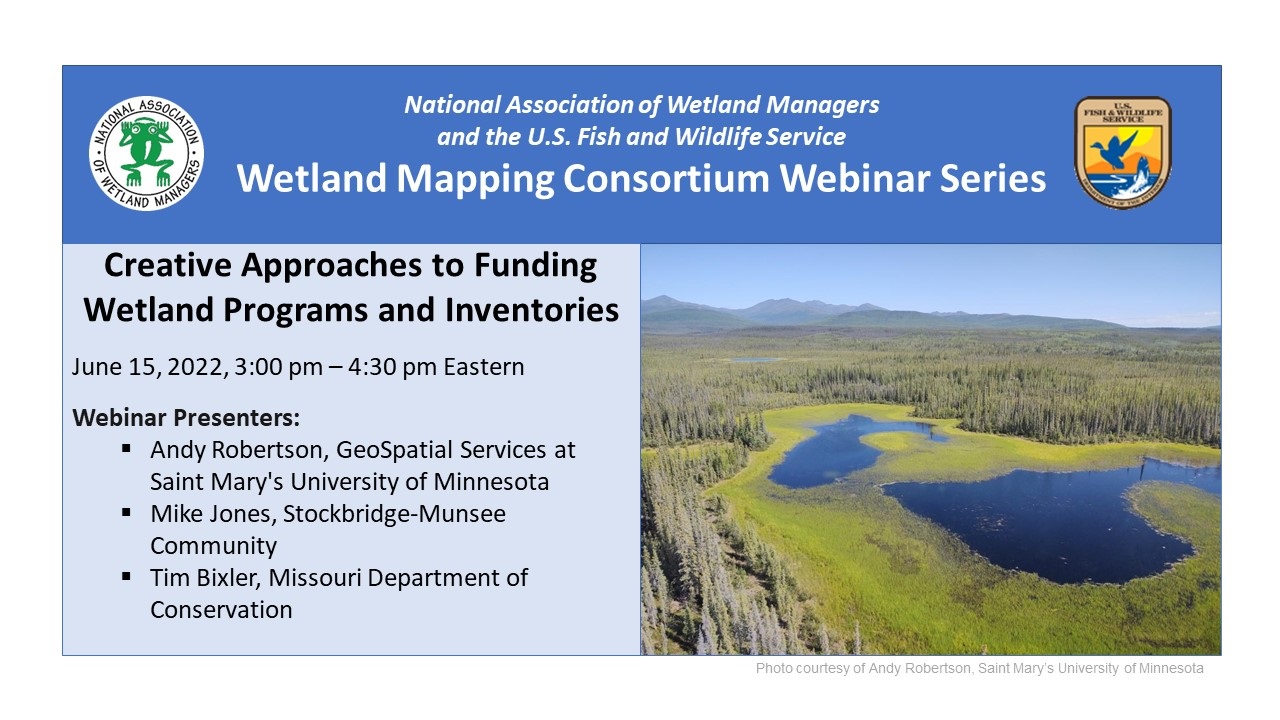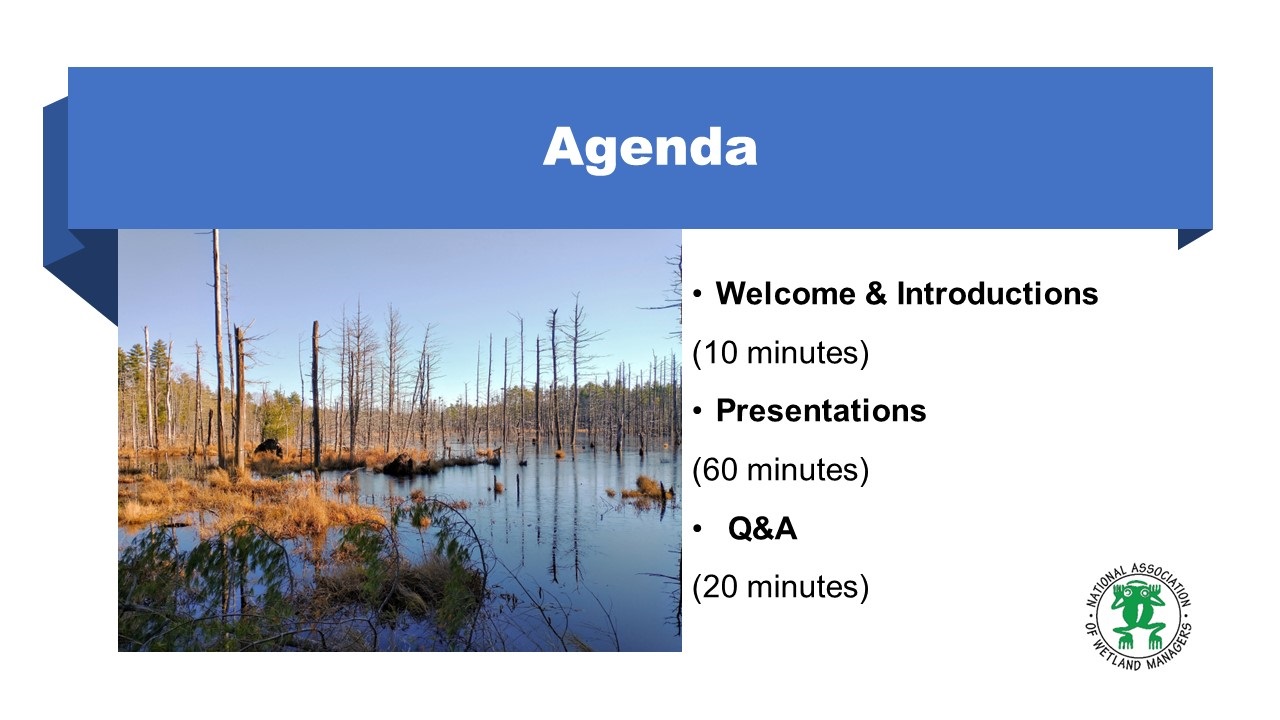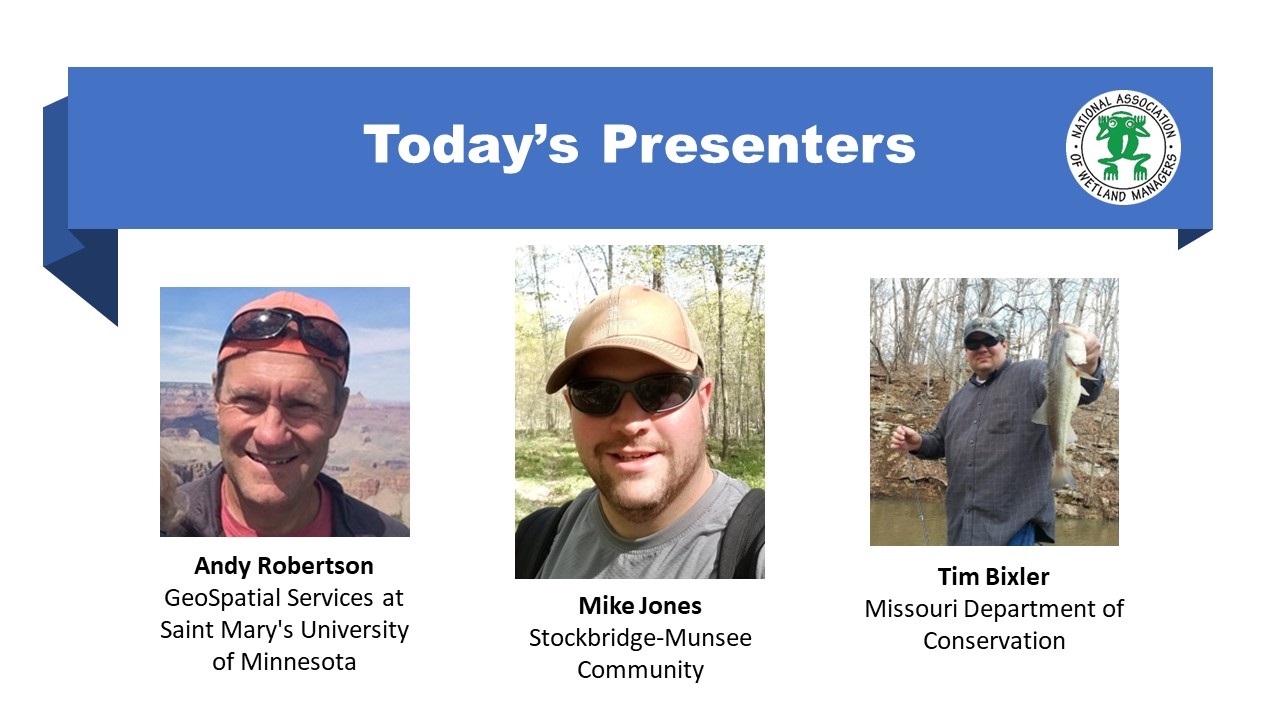 View Past Wetland Mapping Consortium Webinars Here
View a List of Wetland Mapping Consortium Webinar Recordings Here

View Upcoming Wetland Mapping Consortium Webinars Here