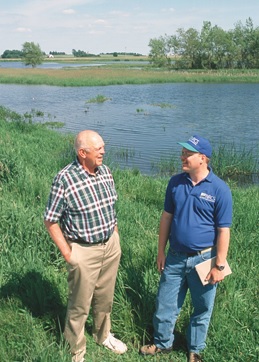 Training Series Goals
This webinar series has been designed to provide participants with a general level of knowledge about wetlands and wetland restoration options and considerations. Participants will come away from trainings with key knowledge, the ability to be more conversant about wetland issues, knowing what questions to ask when looking at restoration opportunities, and knowing when to contact or bring in an expert. This webinar series ties in with the Natural Resource Conservation Service's (NRCS) nine-step planning process, focusing on Phase I collection and analysis steps: identify problems, determine objectives, inventory resources and analyze resource data.
For more information and/or to join our email list for notices about upcoming events, please contact Laura Burchill at or (207) 892-3399.

View a List of Past NRCS Conservation Planners Training Webinar Recordings Here
Target Audience
This webinar series has been developed to train Level 1and 2 NRCS Conservation Planners in field offices about key wetland concepts and restoration considerations as they work with clients on issues that involve wetlands. Additional targeted audiences include state and tribal wetland program staff, district staff, others working with NRCS Planners, staff from other agencies working on these issues (e.g. Forest Service, Bureau of Land Management), and NRCS non-planners who would benefit from this knowledge/skill-building. Participants to not require prior knowledge of or training on wetlands.
As a result of participating in this training series, participants will:
Know how to read the landscape

Know how to recognize and capitalize on opportunities with landowners, both when the landowner wants their land altered or they want to restore it

Have an awareness of which tools are available and for what applications

Understand programmatic options (e.g. Environmental Quality Incentives Program (EQIP), Conservation Reserve Program (CRP), Partner Programs)
How to View the Webinars
This webinar series consists of nine individual webinars. While each webinar has been designed to be able to function as a stand-alone training resource, participants will get the most benefit from the webinars by watching them in sequential order, as each webinar builds off the prior webinars in terms of building a foundation of knowledge.
Webinars in the Training Series
Webinar 1: Introduction to Wetlands - June 22, 2018
Webinar 2: Wetlands in a Watershed/at the Landscape Scale - August 15, 2018
Webinar 3: Wetland Ecology for Planners: How a Wetland Should Function - November 14, 2018
Webinar 4: Wetland Ecology for Planners: Examples of Variation Across the United States - December 14, 2018
Webinar 5: Dealing with Reality: How to Work with Wetlands in Altered Landscapes - February 15, 2019
Webinar 6: Identifying Resource Concerns and Determining Landowner Objectives - Presentations Recorded December 2019 (Non-Live Webinar)
Webinar 7: How to Talk about Wetlands with Landowners - Presentations Recorded December 2019 (Non-Live Webinar)
Webinar 8: What are the Choices and Benefits? Matching Objectives to Programs and Getting Additional Help - August 5, 2019
Webinar 9: Dealing with Challenging Weather Patterns in Wetland Restoration Planning - May 6, 2019