A Legal Analysis of the Clean Water Act § 401 Proposed Rule
Held Friday, September 20, 2019 - 3:00-5:00 pm Eastern

INTRODUCTION
Marla Stelk, Executive Director, Association of State Wetland Managers [POWERPOINT PRESENTATION]
PRESENTERS
ABSTRACTS
On Thursday, August 22, 2019, the U.S. Environmental Protection Agency's (EPA) proposed rule for changes to Clean Water Act (CWA) Section 401 was published in the Federal Register. The EPA has only provided a 60-day public comment period - comments are due on or before Monday, October 21, 2019 – however, EPA has requested feedback on over 130 questions. CWA § 401 is a direct grant of authority to states (and tribes that have been approved for "treatment as a state" status) to review for compliance with appropriate federal, state, and tribal water quality requirements any proposed activity that requires a federal license or permit and may result in a discharge to waters of the United States. The proposed rule has significant legal and policy implications for states' rights to protect their water quality within their own boundaries. To assist states, tribes and others in understanding the potential legal concerns surrounding the proposed rule, ASWM has invited three of the nation's top Clean Water Act attorneys to provide a history of significant court cases regarding § 401, its use by states and tribes, and a legal analysis of the proposed rule and potential impacts.
Royal C. Gardner
Gardner provided a history of state water quality certification provisions, beginning with the Water Quality Improvement Act of 1970. He discussed the key U.S. Supreme Court cases that interpret Clean Water Act Section 401 (PUD No. 1 of Jefferson County v. Washington Department of Ecology and S.D. Warren Co. v. Maine Board of Environmental Protection), as well as other cases mentioned in the proposed rulemaking. He will also highlight significant aspects of the proposed rule: time limitations on state certification decisions; restrictions on the scope of what states may consider in the certification process; and federal agency review (and possible rejection) of state certification decisions.
Mark A. Ryan
Mark discussed the administrative process EPA is required to follow to promulgate a final rule, how the likely litigation will play out and the possibility of Congress invoking the Congressional Review Act. Mark also discussed how this effort fits into other CWA reform efforts by the Trump administration.
James M. McElfish, Jr.
James discussed the reliance by many states on 401 as a basis for wetlands regulatory programs; the various types of conditions that states have applied to 401 certifications to protect water quality in the context of federal licenses and permits and what limitations the proposed rule would place on such conditions; and the potential impacts of the proposed rule on enforceability of state conditions.
BIOS

Royal C. Gardner is Professor of Law and Director of the Institute for Biodiversity Law and Policy at Stetson University College of Law. He is an internationally recognized expert in wetland law and policy. Recent projects include serving as the Chair of the Scientific and Technical Review Panel of the Ramsar Convention on Wetlands, testifying before a World Bank arbitration panel, advising the Government of Oman regarding wetland policy, and coauthoring amicus briefs on behalf of environmental scientists. In WOTUS-related litigation, he has filed amicus briefs in the U.S. Court of Appeals for the Sixth Circuit, and in the U.S. District Courts for the District of North Dakota and the Southern District of New York.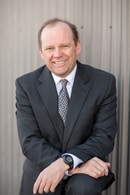 Mark Ryan is an Attorney with Ryan & Kuehler PLLC in Winthrop, Washington where he has a national and regional practice that focuses on Clean Water Act (CWA) counseling and litigation, water rights and land-use issues. Prior to Ryan & Kuehler, Mr. Ryan spent 24 years as an EPA trial attorney, where he was one of EPA's leading experts on the CWA. He has published and spoken extensively on the CWA, and he is the long-standing editor of the American Bar Association's Clean Water Act Handbook. He received his B.S. in natural resources from the University of Michigan and his law degree from Indiana University School of Law (cum laude), where he was an editor of the Indiana Law Journal. Mr. Ryan's Clean Water Act Blog, where he provides summaries of recent developments under the CWA, can be viewed at ryankuehler.com. Mr. Ryan can be reached at .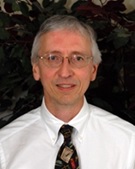 James M. McElfish, Jr. is a Senior Attorney, Director with the Environmental Law Institute Sustainable Use of Land Program. Jim McElfish's research focuses on development choices and their links to land use, water resources, biological diversity, and infrastructure policy. ELI's Sustainable Use of Land Program makes connections among laws, policies, taxes, investments, and land use decisions. His work includes research on coastal zone activities, renewable energy siting, enforcement, and conservation outcomes. McElfish served as representative of the natural environment on the American Planning Association's multi-year Growing Smarter Legislative Guidebook Directorate. McElfish also leads ELI programs on water resources, examining how watersheds and resources can be evaluated, used, conserved, and restored. He is a nationally recognized authority on NEPA and a former litigator in private practice and with the Department of the Interior. McElfish has been an ELI Senior Attorney since 1986.


Part 1: Introduction: Marla Stelk, Executive Director, Association of State Wetland Managers Presenter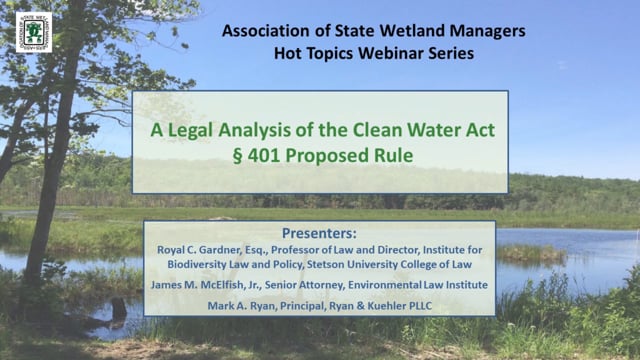 Part 1: Introduction: Marla Stelk, Executive Director, Association of State Wetland Managers Presenter: Royal C. Gardner, Professor of Law and Director of the Institute for Biodiversity Law and Policy, Stetson University College of Law
Part 2: Presenters: James M. McElfish, Jr., Senior Attorney, Environmental Law Institute and Mark A. Ryan, Principal, Ryan & Kuehler PLLC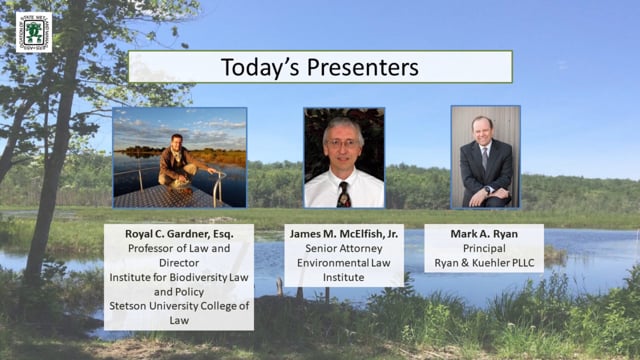 Part 2: Presenters: James M. McElfish, Jr., Senior Attorney, Environmental Law Institute and Mark A. Ryan, Principal, Ryan & Kuehler PLLC
Part 3: Questions/Answers Part 3: Questions/Answers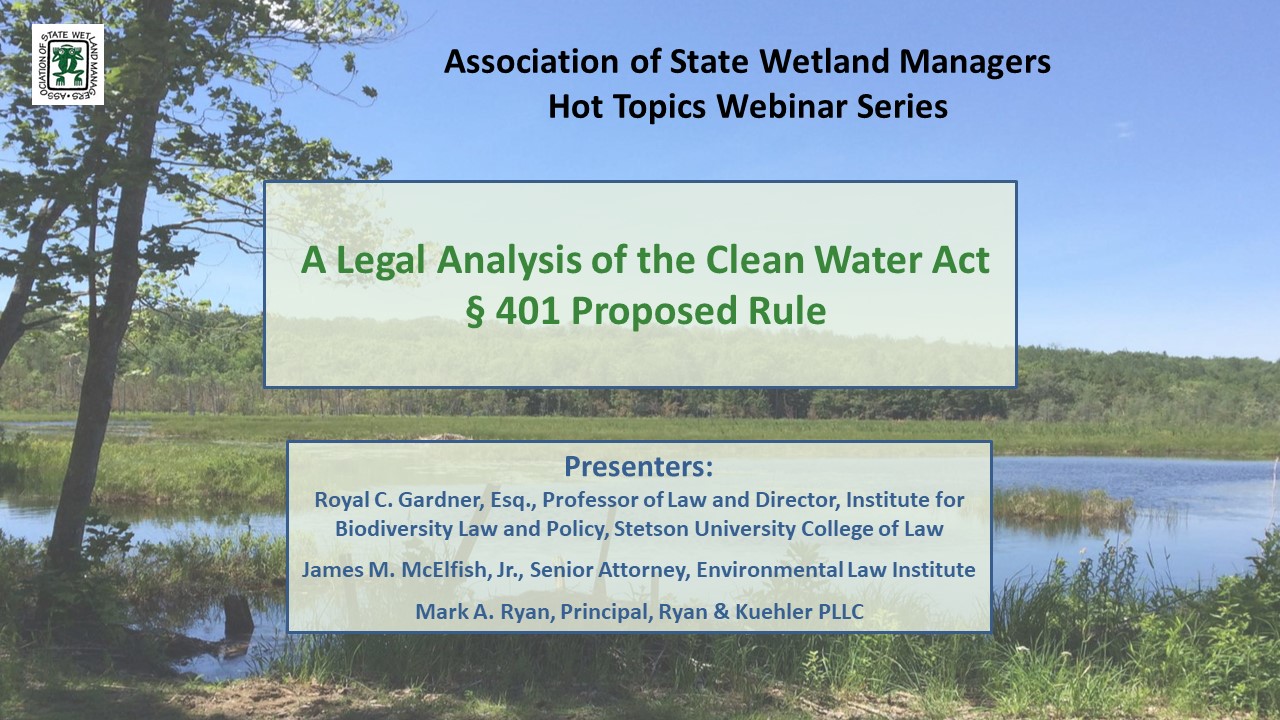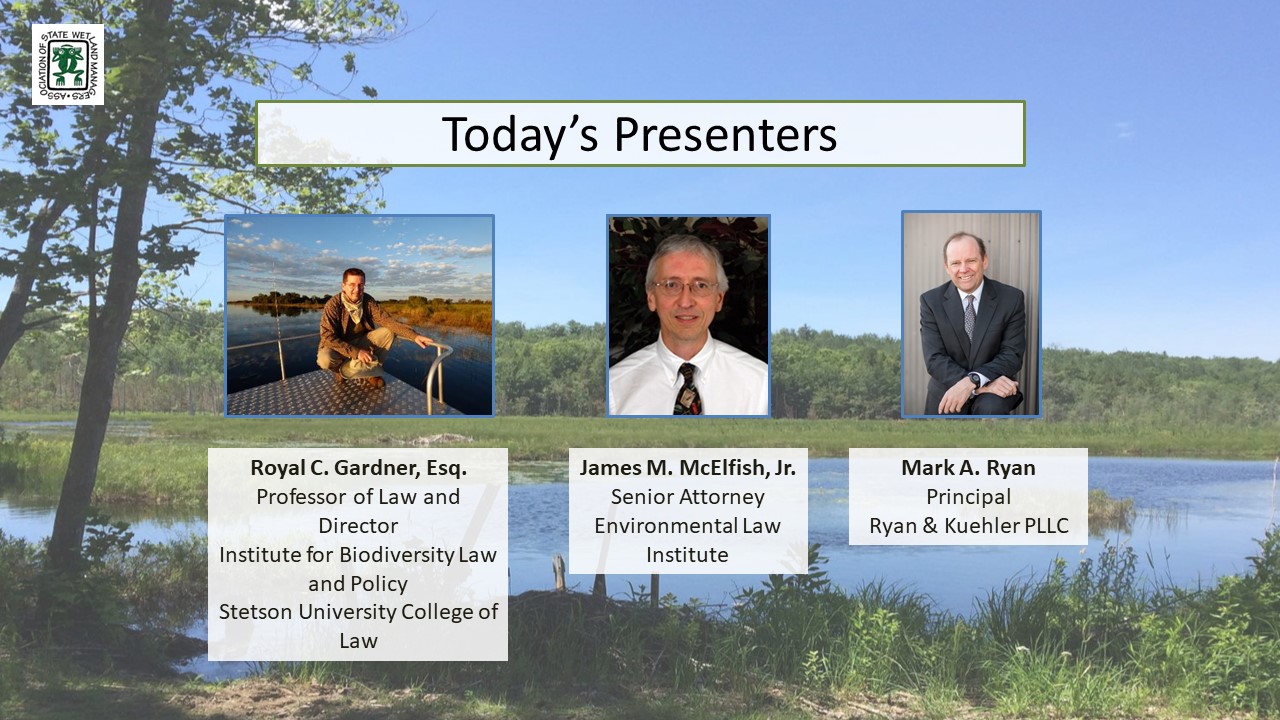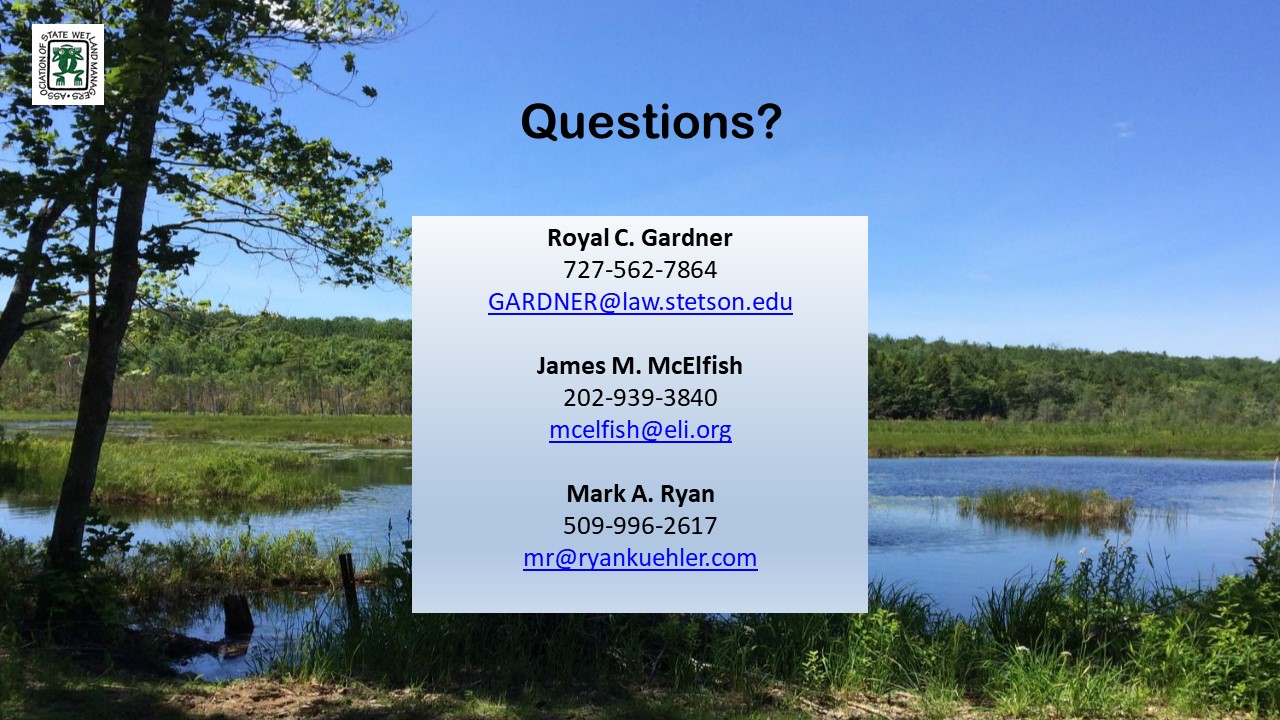 View Past Clean Water Act Webinars Here
View a List of Past Clean Water Act Webinar Recordings Here