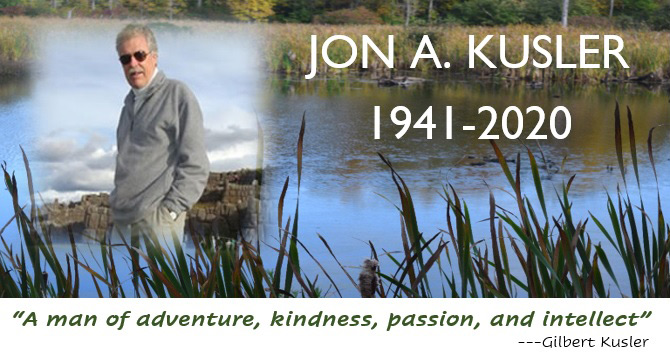 Jon A. Kusler, Esq., Ph.D.
July 25, 1941 – October 8, 2020
On Thursday, October 8th, 2020, NAWM's founder, Dr. Jon A. Kusler, Esq. passed away peacefully with his family by his side after heroically battling Multiple System Atrophy for more than a year. The global community of wetland and floodplain managers, scientists, policymakers, lawyers and practitioners have lost a colleague, a mentor and a friend. Jon paved the way for wetland and floodplain protection around the world, challenging us to think beyond the norm – to find new and innovative ways to solve some of our most pressing environmental issues. As a way to provide a place for communal reflection and to celebrate Jon's life, NAWM has created a memorial page on its website where staff will be posting messages shared by those who knew Jon. If you would like to share a story or a sentiment on the page, please go here.

Jon A. Kusler Student Scholarship Award

In honor of Dr. Jon A. Kusler, Esq., founder of the Association of State Wetland Managers, Inc. (dba National Association of Wetland Mangers (NAWM), NAWM has established the Jon A. Kusler Student Scholarship Award, a competitive award to fund all expenses for one or more U.S.-based students studying wetland science, law or policy (either undergraduate or graduate level) to attend NAWM's annual State/Tribal/Federal Coordination meeting. Jon's family has requested that any monetary gifts in Jon's memory be contributed to the fund to continue his legacy for years to come. Contributions to the scholarship award will ensure that Jon's legacy lives on by building the capacity of the next generation to protect and restore our nation's wetlands.
Contributions to the award can be made on NAWM's donation page here.
Memories from Colleagues and Friends

From Max Finlayson, Institute for Land, Water & Society, Charles Sturt University

I met Jon in Charleston, South Carolina, in 1989 at the Wetlands and River Corridor Management conference where I was attending my first international wetland management meeting. It was likely one of many similar meetings for yourself and established colleagues, but it was a first for myself in my then new job in the UK. It was a great start to a career in wetland management, and later back into research. Thanks for your part in that – I don't underestimate the value of such events in helping people get a start in their jobs and I guess also in their life directions. So thanks for that –a lot of thanks - the meeting and the people you enabled me to meet were certainly valuable. I'm pleased to have the opportunity to send a message, and say thanks for Jon's support and guidance, and to also acknowledge his contributions to wetlands and to wetland managers. Be assured that his ideas and wisdom do continue through the efforts of many others, including this "raw" strongly accented wetlander from the tropical, crocodile inhabited, stinking hot swamps at the top of Australia. It's all appreciated, and with fond memories, and much gratitude

.

Joe Berg, Biohabitats

Jon was a great guy that contributed so much to so many. He will be missed.

Michael Gease, Floodplain Manager

Jon A. Kusler was one of the true heavyweights who contributed much to my understanding and appreciation of floodplains and wetlands as an integrated natural system needing protection.

Mary Kentula, U.S. Environmental Protection Agency

Jon influenced so much throughout his lifetime and leaves an impressive legacy. I'll always remember our phone calls and meetings during the planning and production of Wetland Creation and Restoration – The Status of the Science, which soon became a classic in the fields of wetland ecology and restoration. Most of all, I will remember Jon's mentoring of a new PhD who was just beginning her career with EPA and was very "wet behind the ears". I learned so much from Jon about how to build a team, garner support for a project, and execute a large product like Wetland Creation and Restoration. He will be missed and lovingly remembered by many, especially me.

Richard Smardon

Jon and I worked on many of his NAWM conferences and meetings. We co-chaired the 1990 Great Lakes Wetlands conference in Niagara Falls NY. We also worked together on the two ecotourism conferences in Merida Mexico and Miami Beach Florida. I remember sitting on a bench with Jon and Rud Platt in Knoxville Tennessee at a TVA meeting and exchanging past memories and future possibilities.

Ralph Tiner

I was saddened to hear of Jon's passing. I've known Jon for nearly half a century. He was an extraordinary individual...one of a kind. He was instrumental in bringing wetlands and floodplains to the forefront of national policy. He was a mover and a shaker. I am most familiar with his work on wetlands that helped guide national wetland policy, promoting wetland regulation, restoration, assessment, and conservation. He was an inspiration to many. As an accomplished writer, especially of policy, Jon has left us thousands of pages of his insight into many topics relevant to wetland and floodplain protection and conservation. He was also an adventurer as I remember him telling a story of a family vacation in Central America where they were chased by local militia. Jon was a man of many talents. He was a rock hound and had quite a collection of rocks at his home. He invited me and my family to accompany him on one of his local expeditions to dig for Herkimer diamonds in upstate New York. My kids (now adults) still remember this adventure. For on a hot humid New York summer day, we spent hours digging with Jon in one of his favorite spots. His enthusiasm for digging was contagious and we were all impressed by his determination to help us find some gems. We did come home with a few but on the way home we passed an Amish farmstand where they were selling some that were larger than our treasures so we bought a few to add to our collection. Wetlands and floodplains are better off than they were before Jon began his campaign to help them. Thanks Jon for all your efforts and for establishing the National Association of Wetland Managers that will continue to fight for wetlands and floodplains. May you rest in peace my friend.

Paul Adamus

So sad to hear of Jon's passing. There is perhaps no other professional colleague to whom I owe as much for the career I've had, and during the 1970s and beyond few were as instrumental in moving wetlands to the forefront of policy and scientific discussion at a national and global scale. I knew of his reknown in wetland circles when to my surprise he cold-called me in 1983 expressing admiration for a government report I'd just published and which I assumed only a few would notice since I was an unknown scientist back then, working in a small town on the Maine Coast. His subsequent sharing with other wetlands people his enthusiasm for my work (which later became the WET and WESP function assessment methods) definitely jump-started my career. And it began a long friendship and led to many times together, both formal and informal, over the decades. When I suffered a near-death event a week before I was to present at one of his symposia in 1986, he sent a card of concern signed by many who attended. That, as much as his immense achievements, is what I remember him for.

Eric Hughes, EPA, Retired

I have very fond memories of Jon and his leadership of the State Association of Wet Land Managers in the 1990-1996 time period. I was managing the EPA Region 4 (8 Southeastern States) wetland program, which provided grants (~$2.5 M/yr) to our State 401/wetland agencies to assist them. Jon attended several of our annual State wetland meetings in Atlanta, & he was just inspirational. Always upbeat, always encouraging our Region 4 State managers, & many of them had little political support or resources in their home states. He was just a wonderful person, a real leader. RIP

Michael Josselyn, WRA, Retired

Jon was very influential in my career. As a young wetland scientist, I first met him at a Society of Wetland Scientists meeting in San Francisco where he asked me to participate in summarizing the science of tidal wetland restoration for an upcoming book being published by the EPA. I was honored to contribute in that effort and met many other wetland scientists and practitioners. Later as I transitioned to wetland restoration consulting, I could always count on Jon's well written explanations of laws, regulations, and court determinations to better understand not only how it affected California, but other states as well. His leadership and clear and thorough writings during the formative years (and beyond) on wetland science and regulation will be read by many and will set a high standard for those who follow. Thank you, Jon, for all your contributions to our field and you will truly be missed.

Don Witherill, Maine Department of Environmental Protection

Over my many years with the Maine Department of Environmental Protection, I have learned much about how to shape environmental policy. I have learned and taken inspiration from a number of individuals, but none more so than Jon. In the mid 1980's, Maine had just enacted its first law to regulate freshwater wetlands. I was hired to oversee the program and needed guidance. That's when I was introduced to Jon and a group of state counterparts, who would soon become the National Association of Wetland Managers. We all came to the group with unique circumstances related to our states' political and cultural climates, but we all had common aspirations to develop effective wetlands programs. Jon understood all of that as well as how state programs could effectively draw from the Federal Clean Water Act provisions. Jon brought us together, organizing annual conferences and work group meetings to help us sort through how we could more effectively manage our programs. I remember how early on, I think it may have been in 1985, Jon took special interest in Maine's developing program and helped us organize one of the early national conferences in Portland, Maine. It was at a critical stage in our program's development and gave us a boost of energy moving forward. One of my favorite memories of that conference involved our keynote speaker. We had lined up a former state Attorney General for that role and were in the last stages of preparation when word reached one of our U.S. Senators that Maine would be hosting a National Wetlands Conference. That was Senator George Mitchell, who later went on to become Secretary of State and a pretty accomplished negotiator, to say the least. Jon's first reaction was "who is this guy and why is he coming to our conference?" I remember assuring Jon that Senator Mitchell would be a worthwhile addition to our agenda, and it turned out he was. That was one of the only times I was able to offer Jon some advice, as it usually went the other way. Over the ensuing years, I drew frequently upon Jon's knowledge on a variety of wetland regulatory issues and we were able to secure passage of a strong set of wetlands rules covering the bases of "avoidance, minimization and mitigation." While I eventually moved on to other responsibilities that took me away from wetlands regulation, I still look back on those years with a sense of pride and accomplishment. Jon was instrumental in those efforts in Maine, as I know he was in many other states around the country.

Julia Fonseca

Jon's written works provided me much guidance on floodplain and wetland policy. I am glad to have been able to meet him and learn from his many policy papers! My condolences are offered to his friends, colleagues and families.